Banking is a good career-option, Union Bank MD Rajkiran Rai tells Youth
Mangalore Today News Network
Mangaluru, August 26, 2017: At his first 'meet and greet' with Mangaluru's press since his appointment as MD of Union Bank, Mr. Rajkiran Rai G cut a very dynamic figure as he outlined his plans to take the bank to newer heights.

Just a year ago, Union bank had been a victim of cyber-hacking, and funds to the tune of Rs. 1,100 crores were wiped out of its Nostro account. But quick sleuthing meant the money was recovered in the nick of time. In the light of this incident, Mr Rai stated that the bank was investing heavily in technology not just to thwart cyber crimes but to provide a better service to its customers.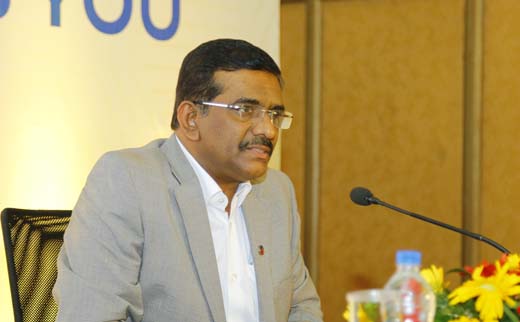 The new MD was quick with facts and figures as he fielded questions from the press. He spoke of the new Union Bank UPI App, which will eventually lead to a cashless form of payment in the future. It was designed in-house and with this, he hopes to store more customer data, which will help in providing better services.

With regards to recovering bad debt, Mr. Rai said that there are some customers whom he calls 'the hanging fruits'. They make recovery of debt fairly easy. Then there are the 'tough nuts' to crack who make debt recovery difficult. Referring to Vijay Mallya, he said, "…We recovered the debt in time."

On the topic of mergers, he said that it is always good if two big banks merge. Or even if medium banks merge with big ones. "One plus one should become 2.5," he quipped. Consolidation is a must he said, "We cannot have so many banks in the same place…"

The Union Bank has floated an e-tender for Aadhar pay enabled machines. This biometric device is linked to the Aadhar card, which is linked to one bank account. This will eventually result in cashless payments. To use these machines, "the thumb is very precious!" he joked.

On a more serious note, he said that many traders would need this technology to account for all their transactions. The bank is therefore actively working towards an easier, cashless economy.

To a question from a journalist, Mr. Rai said Mangalore does not have any such system yet but as he is so closely associated with the city, he will personally look into it. He said for these systems to work, good connectivity is necessary.

Mr. Rai said that technology upgradation is an ongoing process. It may be expensive but it has to be provided at no extra cost to the customer." When the customer wants something, I need to provide it," he said. The Banker is looking to double the business from Mangalore. He said he sees a lot of potential in the region. One area that is sorely missing is Forex. He is also trying to capture the export business market.

On his 3 decade-long career in banking, Mr Rai said his personal best was being made the MD of Union Bank. He said many people used to choose software and BPOs but now, they are slowly seeing banking as a good career-option. He said he has noticed that youngsters from Kerala, Tamil Nadu, Maharashtra and Karnataka rarely sit for the banking exams. He felt more awareness should be created about careers in banking as the Mangalore region is a 'cradle of banking', having witnessed the birth of Canara Bank and Vijaya Bank.

Write Comment
|

E-Mail
|
Facebook
|

Twitter
|

Print