BR Shetty admits serious fraud, blames aides after 'forensic probe'
Mangalore Today News Network
New Delhi, April 30, 2020: BR Shetty, founder of the scandal-hit NMC Healthcare and Finablr, on Wednesday lashed out against "a small group of current and former executives" at those entities, accusing them of fraud subsequent to "a forensic enquiry" he had initiated.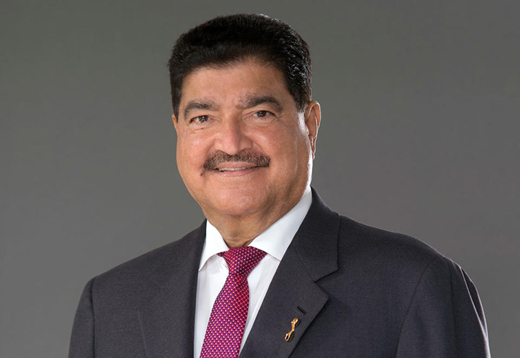 Shetty, who has been elusive to the media and staying in India since shocking revelations about the crisis-torn NMC and Finablr surfaced, said in a statement he is "vigorously pursuing, all legal actions and remedies available to me against those who have committed fraud against my businesses and myself."

The billionaire-founder of the two firms, currently shuddering in a maelstrom of allegations of billions of dollars in concealed debts, blatant irregularities, forgery and fraud that has rocked the financial world, also confessed that "serious fraud and wrongdoing" appear to have taken place" in both those companies he had been heading not so long ago "as well as within some of my private companies, and against me personally."

"This fraud also appears to have been undertaken by a small group of current and former executives at these companies," Shetty said.

Shetty's revelations came as the Central Bank of the UAE advised banks to freeze Shetty's accounts as well as that of his family and several other people.

The CBUAE move is subsequent to a criminal complaint filed by Abu Dhabi Commercial Bank, which has the largest exposure of Dh3 billion to NMC Healthcare, alleging "fraud and forgery" against six people, including founder Shetty, and former CEO Prasanth Manghat.

In the complaint filed, ADCB had requested the federal public prosecution for the opening of a criminal case against the six accused and to direct "the Central Bank to freeze all accounts belonging to the accused and all their family members, up to three degrees removed, as well as private company accounts belonging to them, to prevent disposal of assets".

ADCB also has requested the prosecution to direct "all economic departments and free zone authorities in the UAE to identify and freeze all companies or economic entities belonging to the accused, or members of their families to prevent the disposal of assets, including any movable and/or immovable property and real estate inside and outside the state; and authorise a raid and search of the residence of all the accused including the confiscation of all papers and financial documents, computers and any other relevant evidence."

NMC, which has borrowed from a total of 80 local and international banks, disclosed $6.6 billion in debt last month, above $2.1 billion disclosed in June last year.

UAE banks said in stock exchange filings in the past few weeks they had more than Dh10 billion in exposure to NMC. Abu Dhabi Commercial Bank, NMC's largest local lender, said it had an exposure to NMC of $981 million, including syndicated loans alongside major global banks via senior unsecured facilities. Under UAE central bank regulations, doubtful loans can lead to specific provisioning of at least 50 per cent for a bank on a troubled loan.

Two days ago, NMC Health requested for delisting from the London Stock exchange following its removal from the blue-chip FTSE-100 index effective.

In his statement, explaining the reasons for his long silence ever since the turmoil shook the company's fabrics following Muddy Waters' allegations of gross financial irregularities and falsified bottom lines at NMC, Shetty said that it was out of respect for due process and to allow the various UK and UAE authorities and investigations, including his own, to quickly expedite their mandates, he had refrained from making any extensive public statements. "This restraint in speaking out has come at great personal cost to me both by reputation and materially. However, given my own legal and forensic investigations are now starting to produce some initial findings, and in consideration of some misleading and inaccurate allegations and claims made against me, now is the right time to do so.

"For the sake of clarity, I ceased having a day-to-day executive role in NMC Health PLC in 2017 and since then I have been a joint non-executive chairman and shareholder of NMC. I stepped down from the board of NMC on February 16th, 2020. The series of events since December 2019 have shocked me as much as anyone else, including the alleged fraud and misconduct at NMC, as well as the existence and extent of undisclosed company debts," said the statement.

Shetty claimed that his probe revealed "the fraudulent creation and operating of bank accounts in my name including many fraudulent transfers that I neither authorised, consented to, nor had any knowledge of."

He said the findings include the "fraudulent creation of loans, personal guarantees, cheques and bank transfers in my name, and using my forged signature, that I neither authorised, consented to, or had any knowledge of; the creation and set-up of companies in my name that I neither authorised, consented to, or had any knowledge of, and that were seemingly created with the express intention to commit or conceal fraud; the fraudulent creation of powers of attorney, and the misuse of existing powers of attorney, again in my name, that I that I neither authorised, consented to, or had any knowledge of; the creation and provision to me of false and misleading financial statements and information regarding the performance of some of my private companies and investments by members of my own management team; and the payments of expenses using my private companies and personal bank accounts, I believe to hide the true financials of the public companies."

He said he and his advisors had shared information and evidence from their findings with all relevant boards, as well as with relevant law enforcement and regulatory authorities. "We will continue to proactively share this information as this work continues and in order to assist these parties with their own investigations and inquiries."

Without naming who all had betrayed his trust, Shetty said, "To see everything that my family and I have strived to build over the past 45 years eroded over the course of a few short months, and mainly due to the misconduct and wrongdoing of people I put so much trust in, saddens me beyond words. It has also left my entire family in a perilous financial position."

He concluded his statement saying: "I intend to work tirelessly to clear my name and assist any authorities in getting to the truth and help them ensure that misappropriated or missing funds are returned by the perpetrators to their rightful owners.
Courtesy:Khaleejtimes

Write Comment
|

E-Mail
|
Facebook
|

Twitter
|

Print