BJP protests coalition govt, while JD(S) celebrates
Mangalore Today News Network
Udupi, May 24, 2018: A protest rally was organised and black day was observed by the district BJP unit against the swearing in ceremony of Chief Minister H D Kumaraswamy and also the formation of JD(S) and Congress coalition government.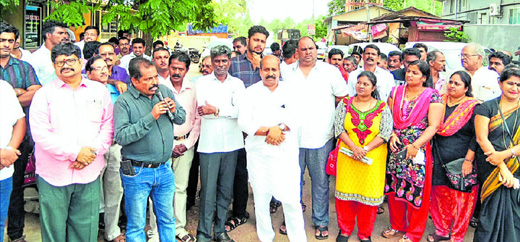 Udupi MLA Raghupathy Bhat alleged that Congress and JD(S) have deceived the people of Karnataka who had given majority to the BJP to form the government.

He alleged that new Chief Minister H D Kumaraswamy is a liar who can never keep his words. He said that the JD(S) and Congress coalition government will not have a long life and it may be there for a few months. Later, the present people's representatives might have to face the elections along with the Lok Sabha polls.

He added that people are under the threat of President's rule in a matter of another three to six months. Congress and JD(S) cannot go along with each other and the fight would erupt shortly. The Congress is demanding all the posts for itself claiming the representations for all minority groups, which is hilarious, he added.

Coming down heavily on the loan waiving scheme by JD(S), the MLA alleged that the tune has changed and the chief minister is speaking differently. There are grim chances of solution for the farmers' problems and also the development would be nil in state until the end of coalition government.

He added that out of 15 seats in Udupi, Dakshina Kannada and Kodagu, 14 have been won by the BJP and only one by Congress. The achievements are nil by JD(S) here. Modi wave would surely affect other political parties. Congress and JD(S) would surely pay for going against public mandate. However, BJP elders are confident that they would surely get justice for their hard work.

Bhat said there is no support for the demand on separate Tulunadu state formation.

MLC Kota Srinivas Poojary said that the coalition government is like a blind person being directed by a handicapped person. Chief Minister H D Kumaraswamy, who failed to keep up his promise with the BJP earlier to transfer power to BJP is now with Congress. He would surely act the same with Congress as he is powerthirsty.

He added that BJP would continue its fight against the coalition government inside and outside the Assembly. Kumaraswamy has failed to keep up the assurances he made to the farmers. The government would be short lived, he added.

District BJP President Mattar Ratnakar Hegde said Kumaraswamy who had predicted political superannuation if he has to join hands with Congress for the formation of the government, has now joined hands with Congress. This shows his double standards.

The coalition government is already a sinking boat and BJP would bounce back to the power, he said.

Meanwhile, the Kaup JD(S) members celebrated the swearing in ceremony of their leader as the new chief minister by bursting crackers and shouting slogans supporting Kumaraswamy.

Write Comment
|

E-Mail
|
Facebook
|

Twitter
|

Print