Awareness of laws a must for students and youth - Judge
Mangalore Today News Network
Mangalore, Sep 05, 2014: "Today's students are tomorrow's citizens'. Youth should know about laws they are essential through out day to day life, said Second Additional District and Sessions Judge C M Joshi.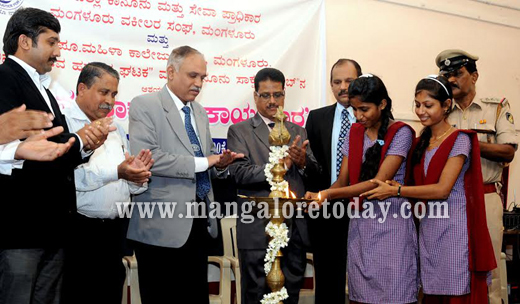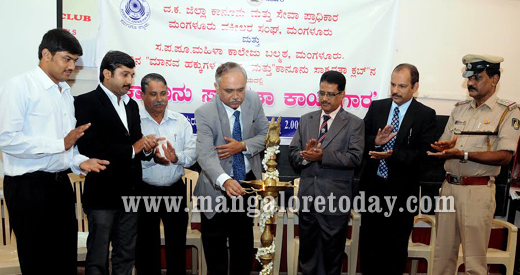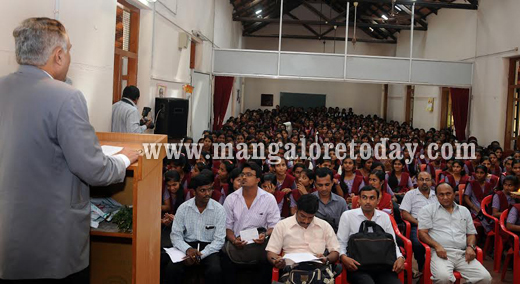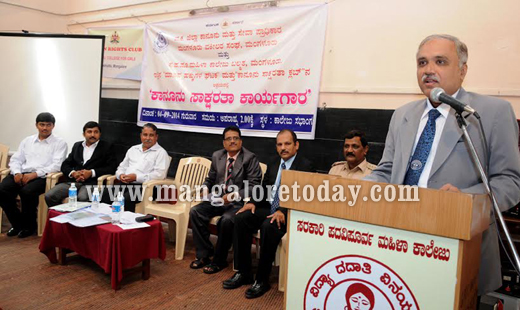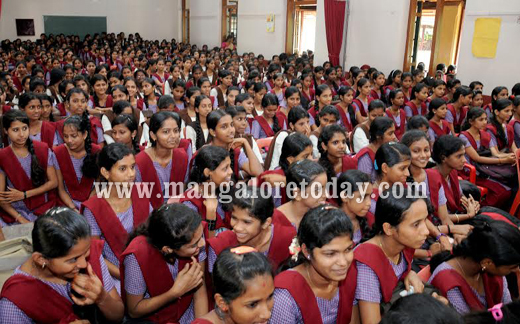 He was speaking after inaugurating legal literacy workshop, jointly organised by Dakshina Kannada District Legal Service Authority, Mangalore Bar Association and Balmatta Government Pre-University Women's College, at the college premises here on sept 4.

"Problems in the implementation of laws exist. To overcome this and to correct the mistakes, one should be aware of laws. In case of new problems, we should first find out where the fault lies.
New things should be discussed which would help in the process of formulating of law," he said. Meanwhile, C M Joshi stressed the importance of learning traffic rules for students.

Right to education : Speaking on Right of Children to Free and Compulsory Education (RTE) Act, Advocate Mayoora Keerthi said that during its Judgement on RTE Act, the Supreme Court had defined education as a field with many actors and the Court has distributed the responsibility of providing free and compulsory education to all children below 14-years of age or eighth standard, to parents, teachers and society.
According to the Act, even parents can't keep their child at home without sending him or her to school. The law also gives right to the child to have transfer in the middle of academics. Free education is mentioned in human rights and it is implemented through the RTE Act, he said.

On cyber crime : Advocate K Vinayak Kamath explained how technology follows human being in many forms, CC cameras, mobile phones and the like in the modern world. Delivering a lecture on cyber crime, he said: "Accessing, downloading, copying, extracting, virus damage, disrupting or causing to disrupt, denial or causing denial, service to the account of others, assistance in contravention, computer contamination can send one to jail. Especially in todays modern world, knowledge is the asset.

We should be careful of our intellectual property and can't copy others' asset," he noted.

Sexual offences : Konaje Police Station Inspector Raghava S Padil called upon students not to keep quiet during sexual offences due to fear. Victims can share their problems frankly with the committee headed by a women .
They would even come to victim's home to record her version and register a complaint against the accused. They would never disclose the name of the victim. Anyone who would harass a girl below 18-year old is punishable under Protection of Children from Sexual Offences Act.
After Delhi gang rape incident, the Act has been made strict he said. "Under Section 28 of the Act, there is scope to set up session courts to dispose sexual harassment cases at the earliest. Article 354 (A) of the Constitution is helpful to prohibit harassment of women. Police conduct enquiry of the victim in civil dress and not in uniform. There is no need to fear," he said.

Senior Civil Judge and District Legal Service Authority Member Secretary Ganesh B, Mangalore Bar Association President Ashok Ariga and College Principal P P Joseph among others were present. The level of interaction was admirable.

Write Comment
|

E-Mail
|
Facebook
|

Twitter
|

Print