Auto drivers stage stir against deputy commissionerís move on permits
Mangalore Today News Network
Mangaluru, May 11, 2016:Autorickshaw drivers conducted an 'RTO Chalo' in front of the Regional Transport Office (RTO) on Tuesday.

The protest was organised under the aegis of CITU, Federation of Karnataka Autorickshaw Drivers' Union and DK Zilla Autorickshaw Chalakara Horata Samiti.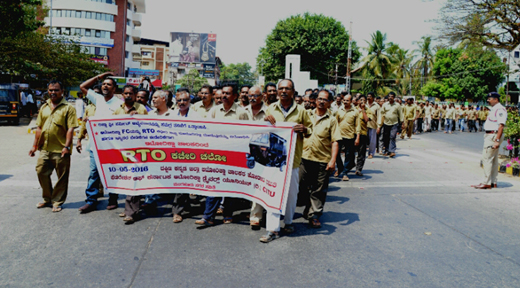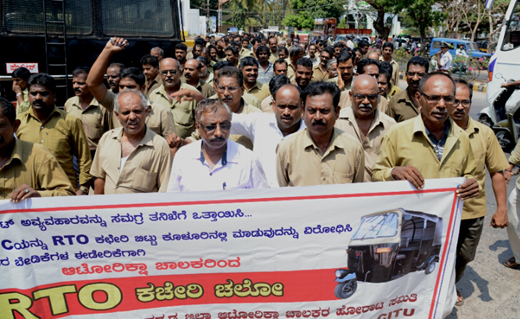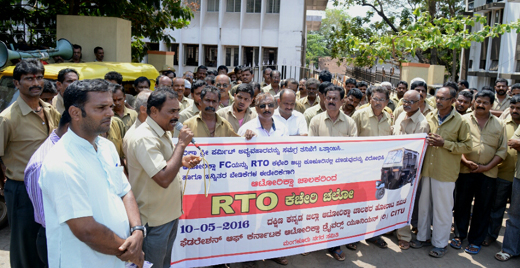 Opposing the move by the deputy commissioner – who is also the chairman of the Transport Authority – of issuing 590 free permits and claiming corruption in the same, the protesters demanded a probe. The autorickshaw drivers urged the authority to issue the fitness certificates for autorickshaws at the RTO itself, instead of the centre in Kuloor.

Lokesh Shetty, Samiti general secretary, said the order, which was issued during 1997-98 by the then DC Anil Kumar and restricted the number of free permits, has been scr-apped.

"Till today, 590 out of 680 applicants have been issued free permits. The rest 90 have been given the sanction letters. Among the 590 people, there are people who have government jobs and those who are economically able. Three to four permits have been given to several people, which is an act of injustice against people from backward classes, like Koragas," he said and demanded a probe into the issue.

He said that there is a large scale corruption in the issue of free permits to autorickshaws. The present DC has not chaired transport authority meetings on a regular basis, he added.

Yadava Maroli, Samiti president, accused transport authorities of having received huge amount of bribes to issue free permits and demanded a probe into the matter and suspension of erring officials.

Sunil Kumar Bajal, honorary president of the Federation of Karnataka Autorickshaw drivers Union and the CITU Mangaluru City Committee, said that there are no sufficient parking areas for autorickshaws in the city.

"There is need for parking area for 380 autorickshaws, but there is enough for only 80. Many autorickshaw drivers are forced to roam around the city due to lack of parking facilities. Moreover, they are harassed by traffic police," he said. "The Vehicle Fitness Certificate issuing office has been shifted to Kuloor, which has caused a lot of difficulties to autorickshaw drivers," he added.

He urged G S Hegade, Dep-uty Commissioner (Transport) and Senior Regional Transport Officer In-charge, to receive the memorandum. "If he fails to do so, the protestors will picket the Regional Transport Office," he warned. The RTO came to the protest venue and received the memorandum. He told the protestors that a report on the issue of free permits has already been submitted to the DC.

Courtesy: DHNS

Write Comment
|

E-Mail
|
Facebook
|

Twitter
|

Print