Anti -superstition Crusader Dabholkarji's memory revered on August 20
Mangalore Today News Network
Mangalore, Aug 21, 2014: FIRA - Federation of Indian Rationalists 'Association, National President, Prof Narendra Nayak, along with activists here on August 20, paid tributes to Leader of the Maharashtra-based Andh Sharadha Nirmoolan Samiti late Narendra Dabholkar, who was assassinated a year ago. Prof Nayak urged the government to pass the Anti-superstition Act that the Siddaramaiah government had pledged to pass after the assassination of Dabholkar a year ago.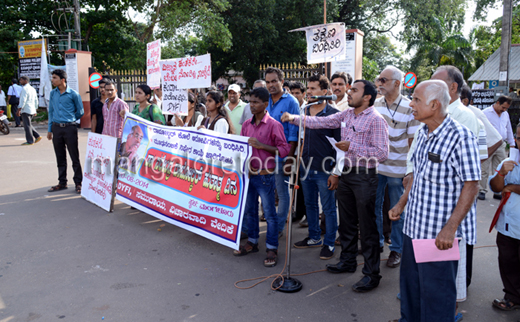 Nayak went on to say, every right thinking citizen of India knows that the assassination was the handiwork of rightist activists. Former union Home Minister Sushil Kumar Shinde, who was a member of the Samiti, did failed to even say a word about the assassination of Dabholkar, he just bowed down to the rightist movement of Maharashtra, Prof Nayak stated.

Kranti Poddar, a senior activist of the Samiti in Pune, told local media that citizens were keen to give voice to Dabholkar in his struggle to do away with superstition. "Now it is pathetic sad that the police / the CBI and authorities are not taking the investigation any further." She lamented.

Nayak protested that Dabholkar 's Murder can never be counted as a common crime, and must be treated as an assassination categorically. Dabholkarji was a great activist with a vision to combat superstition and dogma and free this country of a critical malady. He was a courageous crusader for a cause and his assassination has only strengthened the movement. Nayak said.


''The assassination episode goes to illustrate that the deadly combination of caste and politics still has a brutal edge, I assume the dastardly act was carried out by that combination after Dabholkar went on air on television channel against those who opposed inter-caste marriages and Dalit welfare . "Nayak said.
An international conference of skeptics in India and had a vision of having a branch of the Samiti in every distinct of Maharashtra.

Prof Nayak mentioned, "Dabholkarji declined to be the National President of the FIRA when I offered him to join FIRA in 2009. He had told me that he wanted to open district branches of his organization in Maharashtra. When the bi-decennial of the Samiti was organized in Pune in 2009 he had, in fact, started tour of every village in every district of that state. He was so meticulous in his planning that he knew at what time and what date his bus would be parked in what village for educating villager's year back. A highly principled and motivated hero". Prof Nayak said.

Write Comment
|

E-Mail
|
Facebook
|

Twitter
|

Print