Annual conference of Indian Virological Society (IVS)-' Virocon 2017'
mangaloretoday News Network
Mangaluru, Dec 07, 2017 : Virocon 2017, the 26th Annual conference of Indian Virological Society (IVS), jointly organized by IVS and Nitte University with the theme "Viruses to Viromes in Health and Disease" will be held from 7th to 9th December, 2017 at K.S.Hegde Medical Academy campus, Derelakatte, Mangaluru. The conference was inaugurated by Dr. Shantharam Shetty, Pro-chancellor, Nitte University and commemorated with the release of the book "A Century of Plant Virology in India".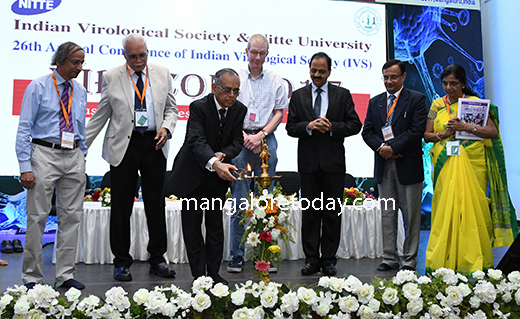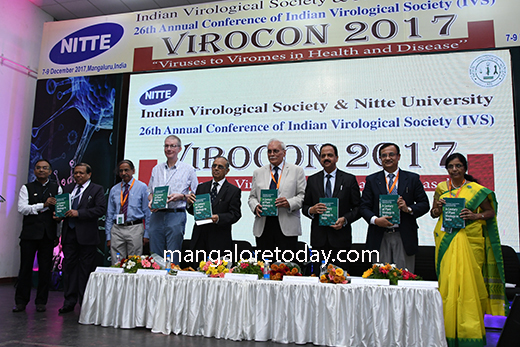 In his inaugural address, Dr. Shantharam Shetty highlighted the problems faced in the healthcare sector due to viral diseases and called for greater research on prevention and management of viral diseases. He emphasized the need to motivate youngsters to pursue interdisciplinary research with tenacity and passion. He appreciated the IVS that brings together experts in plant, animal and human viruses. The event was marked by the august presence of Dr. Andrew Davison, Chairman, International Commission of Viral Taxonomy, Prof. Anupam Varma, President of IVS, and Dr. Sateesh Kumar Bhandary, Vice chancellor, Nitte University and many renowned scientists. Dr. Davison emphasized the need for research on viruses that affect plant, animal and human health. He called upon scientists to participate more actively in the work of the International Commission of Viral Taxonomy.


Presidential remarks of Prof. Varma emphasized that events like this provide a platform for discussion among researchers to share their work and to develop techniques and strategies for solutions to viral hazards by collaboration. Dr. G.P Rao, General Secretary of IVS introduced the activities of the IVS to the audience highlighting its role in encouraging young students and scientists in the field of virus research. Dr.Iddya Karunasagar, Sr. Director International Relations, Nitte University welcomed the gathering and Dr.Indrani Karunasagar proposed the vote of thanks. The conference will be hosting 250 participants from various institutions in India and discussions will be in the fields of medical, animal and plant virology keeping in mind the concept of "One health" .Diseases in humans can invariably be traced to all human activities which connect to the environment and hence animal, plant and environmental wellness are important to ensure human health.


Write Comment
|

E-Mail
|
Facebook
|

Twitter
|

Print