Anatha Murthy's root connection with Udupi
Mangalore Today News Network
Udupi, Aug 23, 2014: Udupi Rajagopalacharya Ananthamurthy, had his origin in Udupi as his grandfather Padmanabha Acharya belonged to Alevooru on the outskirts of Udupi. But eventually, Acharya had to move to Kerala.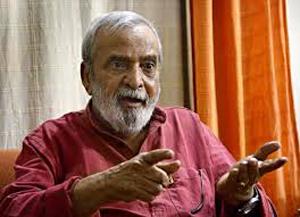 Acharya took the decision to leave Udupi, following afamily dispute. He sold tamarinds collected from his garden to earn some money enough to go to Kerala. Later, he carried out the job of a temple priest for his livelihood.

Though, Ananthamurthy, popularly known as U R Ananthamurthy was not born and brought up in Udupi, he had always been in constant touch with the temple town till his last days. His special attachment is well known.

Many years later, he settled down at Melige in Theerthahalli taluk, with his son Rajagopala Acharya. People who were close to the family recall that Padmanabha Acharya had worked in Udupi mutt as a priest for some time. UR Ananthamurthy was instrumental in the development of humanities department in Manipal University. He headed the department when Jnanpith was announced to him. Serving the university for three years, he pioneered the various courses in the department, such as Philosophy and English', said senior critic, Muralidhara Upadhya who had seen Ananthamurthy closely.

Upadhya further said that he received opinions on the topic he chose for discussion, from many people, irrespective of their age. He was of the firm stand that as a critic, he will not remain away from people and the respective culture while discussing the issue. Pejavar Mutt seer Vishweshtheertha Swamiji and Ananthamurthy, shared a unique bond. Ananthamurthy has written a letter to the seer in appreciation, for visiting Dalit colonies 20 years back. But, when he felt that Swamiji did not make a right move, he had opposed it strongly.

Owing to kidney related ailment, Ananthmurthy had been hospitalised to Kasturba Hospital, Manipal in 2012 and availed treatment for six months. During the time, he had taken part in various literary programmes in Udupi and Manipal. Anathamurthy had great reverence to English poet William Blake. I remember him quoting the lines of Blake often during his speech at MGM College in Udupi, Upadhya recalls.

UR Ananthamurthy has also been the Vice Chancellor of Mahathma Gandhi University in Kottayam in Kerala.

Udupi condolences : Vishweshatheertha swamiji in his condolence message said that Prof U R Ananthamurthy made Kannada literature rich and added that Ananthamurthy was a litterateur of exceptional talent. The seer said that the demise of the litterateur has brought shock to him. "Despite differences of opinions, he was close to me. I pray to Lord Shrikrishna to bless the soul of the departed," the seer has said in the message.

Dharmasthala Dharmadhikari Dr D Veerendra Heggade in his message recalled that Jnanapith laureate litterateur U R Ananthamurthy had taken part in the 51st State-level Kannada literary convention held as a part of Dharmasthala Lakshadeepothsava. "Ananthamurthy had appreciated the social services taken up by Dharmastala and held a great reverence to the Kshetra," the message reads. "Being a thinker of scientific temperament, he opposed superstitious beliefs in strong words. May Lord Manjunatha give the strength to bear the torment caused to the people, due to his death. May his soul rest in peace," Veerendra Heggade said in his message.

Minister for Urban Development and Udupi district incharge Vinay Kumar Sorake said that with his socialist ideologies, U R Ananthamurthy kept forward his thoughts with a direct approach and with all courage. "His demise has caused irreparable loss to the literary world and society as a whole. He had a great concern towards the society," the message read.

Udupi district Deputy Commissioner Dr Muddumohan, condoling the death of Prof U RAnanthamurthy has said in his message that the litterateur had special interest towards music. The DC has recalled his encounters with Ananthamurthy, during his tenure as the Director of the department of Kannada and Culture. This revered litterateur, scholar and social leader will remain in the hearts of the twin districts for long.

Write Comment
|

E-Mail
|
Facebook
|

Twitter
|

Print