Ambient air quality in some city areas poor, Study
Mangalore Today News Network
Mangaluru, Jan 31, 2017: Reports confirm that a study by APD Anti-Pollution Drive Foundation, in association with St George's Homeopathy, Padil, has found that Mangaluru's ambient air quality is not at the required standards in some locations. The study was conducted as part of "Shuddha Gaali" in their "StopSmokyVehicles" campaign to assess air quality of the city. 'OneEarth Enviro Labs' tested the air quality and compared it with the ambient standards in India.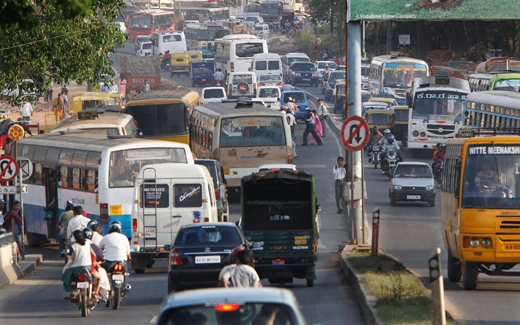 Air pollution, the silent killer, is considered to be one of the major causes of death and many life threatening diseases, affecting vital parts of the human body today. Air pollution is ranked as the fifth largest killer in India and is one of the main contributing causes of asthma and various other respiratory related problems in most children and adults, said a press release.

Targets : The drive aims to wake the conscience of people by creating awareness on air pollution, negotiating with the law makers and the law enforcement agents to implement the existing laws, so that immediate and more stringent action is taken against citizens that choose to flout them, thus enabling to achieve clean air for our citizens. The drive had selected 12 locations in Mangaluru city and the timings of air quality was decided based on peak traffic and was carried on for a duration of eight hours. Six outdoor air pollutants - particulate matter (PM); PM10 (inhalable particles, with diameters that are generally 10 micrometres and smaller); PM2.5 (fine inhalable particles, with diameters that are generally 2.5 micrometres and smaller); Nitrogen Dioxide (NO2); Sulphur Dioxide (SO2) and lead were measured in the drive.

Out Comes : Of the six parameters measured, PM2.5, PM10 and lead were found exceeding the permissible limits in a few locations. PM10 were found to be high in three of the 12 locations -Bunts Hostel (154.04), Pumpwell (103.3) and Baikampady (282.1). The permissible limit for PM10 is 100. While PM2.5 were found above permissible limits (60) in six junctions. They are PVS junction (70.63), Bunts Hostel (77.50), Bunder (71.13), Lal bagh (69.75), Pumpwell (78.38) and Baikampady (109.3). The study found the overall air quality was good in most locations in the city, especially with respect to SO2 and NO2, which were within the permissible limits.

Lead levels were measured at nine locations, of which, at seven locations the levels were found to exceed the permissible standard. The permissible lead level is 1. While the study found PVS Junction (4.57), Bunts Hostel (4.71), Bunder (1.8), Central Market (3.92), MCC (6.94), Attavar (1.86) and Baikampady (6.56).

The study said that the observations were only indicative and further investigations and air quality measurement carried out during different seasons will be required to come to a concrete conclusion.

Write Comment
|

E-Mail
|
Facebook
|

Twitter
|

Print