Alzheimer cases increasing in Mangaluru City: says Doctor
Mangalore Today News Network
Mangaluru: September 28, 2015: With the elderly in the city nearly constituting 15 to 20 per cent of the population unlike other cities, Alzheimer's likely to pose a big problem here, says Dr Prabha Adhikari, professor of medicine and also geriatrics, KMC, Mangaluru.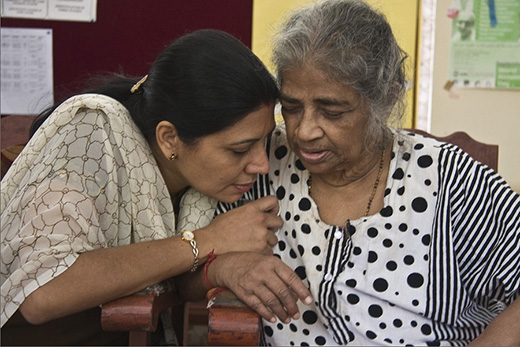 Though all India statistics put it at four per cent of the elderly population, here the percentage will be high, she warns. Though Alzheimer's patients need specialized care, there are no dedicated units to help such population.

"General hospitals are not capable of taking care of them because it's a specialized field - starting from diagnosis to management," says the doctor adding it requires more of other management strategies like counselling and teaching care givers to look after them.

"As far as doctors are concerned early diagnosis will make a lot of difference to the patients who are susceptible to Alzheimer. Memory testing has to be done to check whether somebody is going to get the disease," she says noting that the `memory testing' is not a part of routine examination of doctors.

"But we have memory clinics, neurologists, psychiatrics who can do Memory testing. Every person above 60 years should undergo memory testing every year to rule out Alzheimer," adds Dr Adhikari.

Jerardin D'souza, Founder Director of Mangalore Alzheimer's Association (MAA) also stresses on the care giving part, saying it a major part in dealing with patients with Alzheimer, a chronic neurodegenerative disease. "We need to train care givers, even if they are immediate family members," he says.

D'Souza's tryst with Alzheimer came about after he met Richard Shreder, Director of Alzheimer's Facilities in Seattle, USA. D'Souza an engineer by profession says: I had no inkling about this problem till I met Shreder. Understanding the gravity of the problem, I started the Association with like-minded people and professionals. Having met Shreder, I thought of using his experience and knowledge to help our suffering Mangalureans.

The objective of MAA is to create awareness on Alzheimer's Dementia, which has no cure. "It's a Medico-Social case, where doctors and society need to join to find a better quality of life rather than lamenting that there is no cure, he says. "I have undergone an online course "Understanding Dementia" from University of Tasmania, Australia, which anyone can do. It's free and very useful for care givers and everyone," informed D'Souza.

He says playing games that stimulates brain cells like chess, crossword puzzles or anything that forces the brain to work will be an exercise, which can delay Alzheimer's or onset of Dementia," he notes. D'Souza said a woman resigned her lucrative job to take care of her Alzheimer affected father. She found the care giving very stressful, got mentally strained and finally landed in a psychiatry ward.

Dr AV Baliga Charities Mumbai, Trustee Dr.R V Baliga: Alzheimer is the side-effect of modern medicine which helps people live longer. Longevity results in shrinking of the brain cells. Understanding the disease and sharing of knowledge is the need of the hour. Suspicion, anger, anxiety, repetition of acts were symptoms.

Dr P Venkataraya Bhandary, Chief Medical Officer, AV Baliga Hospital & Psychiatrist, says a balanced diet as well as keeping oneself socially and mentally active can go a long way in preventing dementia.

Write Comment
|

E-Mail
|
Facebook
|

Twitter
|

Print