Alumni of St Aloysius High School, 1979-89 batch, bring cheer for needy
Mangalore Today News Network
Mangaluru, May 18, 2018 : The alumni of St Aloysius High School (1979-89 batch), created a record when they felicitated all their teachers after 29 years in January 2018, and by organising a scholarship programme for 11 meritorious Kannada medium students of the 2018 batch.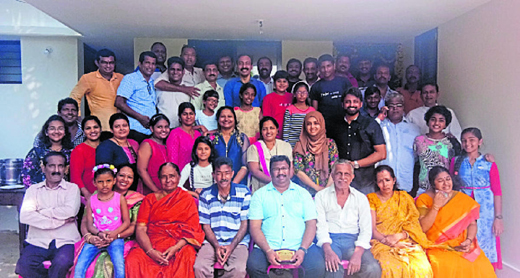 Incidentally, the parents of most of the 11 meritorious students come from a very poor background. While one of the parents was working as a daily wage worker, another was an auto driver, a painter, a carpenter and a bus driver among others. One of the students, Deeksha Gatty (602/625) was also a topper in Kannada medium.

Recalling the reunion of the 1979-89 batch of students, one of the alumni said that it was just a thought of an alumni who decided to form a WhatsApp group of classmates in September 2017 and by December the group was able to bring together more than 40 alumni. They included 'students' from Mangaluru, Bengaluru, Mumbai, Dubai, Abu Dhabi, Iraq, Bahrain, Saudi Arabia, Singapore, Australia and the US.

Incidentally, on the day of Guruvandana, an alumnus had contributed Rs 50,000 and on that day itself, it was decided to hand over the amount as scholarship to 10 students. Later, other alumni contributed some more amount and presented Rs 5,000 each to 10 students and Rs 10,000 to the SSLC school topper (Kannada medium) .

Quite interestingly, during the Guruvandana, the alumni also learnt that one of their classmates, Sudhir, had met with an accident in 1999 and his house was in dilapidated condition. Hence, the alumni decided to pool in money and renovate his house at a cost of Rs 3 lakh.

Recalling the mishap, Sudhir said that it was a nightmare. "I was working as a contract worker for KEB in 1999, when a junior engineer asked to climb an electric pole to repair a snag," he said and added that usually, the linemen climb the pole after ensuring that the power supply is disconnected. However in this case, the power supply was not disconnected (due to the alleged negligence) and he came in contact with a live wire and was thrown out. As a result, he lost strength in his both legs, suffered damage in his spine, one hand and lost vision partially in both eyes.

Soon after the alumni learnt about the misery of their batchmate, they decided to renovate his house and saw to it that it was ready in three months and all alumni had a get-together in the renovated house.

Lauding the efforts of students, the then Deputy Headmaster Shambu Shetty said that it is very rare to find such alumni these days who thought of honouring all their teachers, including the then attenders, renovating their classmate's house and giving back to students in the form of scholarship.

School Headmaster Rev Fr Gerald Furtado too was all praise for 'students' initiative'.

One of the alumni, Sunil, is planning to help train three good cricket players, get quality training. The conditions include that they should belong to Kannada medium, economically weak and have a passion for cricket. Sunil had represented school, district and went up to the state-level way back in 1989.



Write Comment
|

E-Mail
|
Facebook
|

Twitter
|

Print