All parties have let you down. Vote for me and see the difference: Shrikar Prabhu
Mangalore Today News Network
By Mahesh Nayak
Mangaluru, May 10, 2018: Expelled BJP leader and independent MLA candidate of Mangalore South R. Shrikar Prabhu concluded his election campaign today (May 10) with an assertive pitch to woo voters at a public meeting held at Nehru Maidan at 4:30 p.m. Arriving at the venue in an auto rickshaw, which is his election symbol, Shrikar Prabhu addressed a gathering of over 2000 supporters who had braved the sun to hear him speak. All public campaigning is to end today at 6:00 p.m. as per model code of conduct of the election commission.

Beginning his address on a confident note, Prabhu said "Today I stand before you with the confidence of knowing that I have been sincerely serving you for the last 35 years."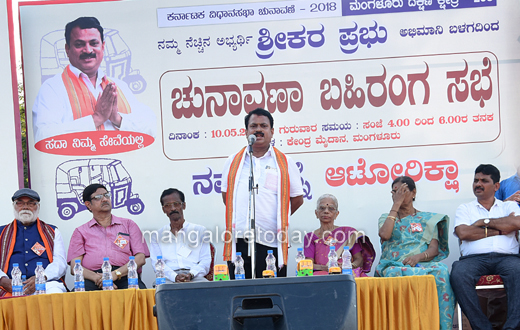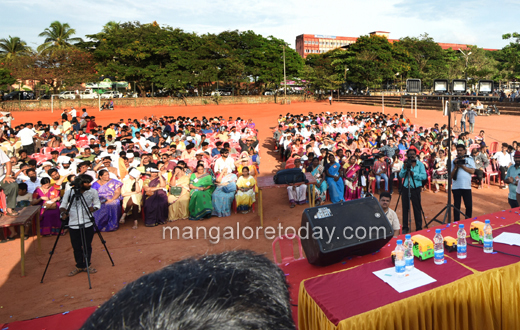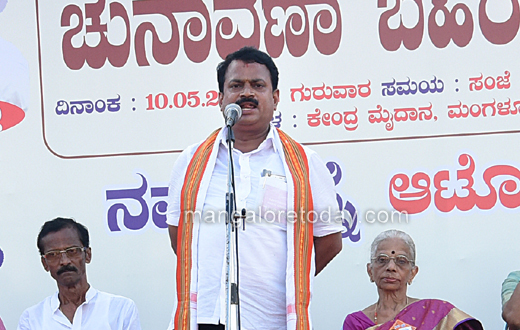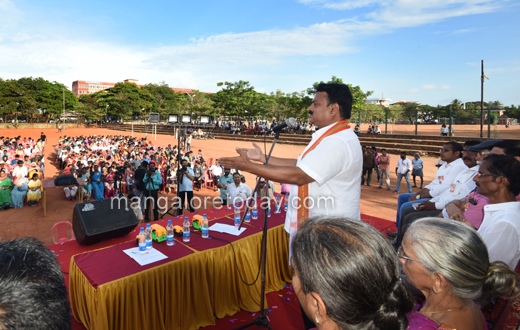 Coming to his constituency, he chose to attack both Congress and BJP, which are the dominant political parties in the fray. "Today if our city is experiencing any problems it's because all our elected representatives have collectively let us down. Both Congress and BJP have betrayed us. Congress MLA J. R. Lobo claims to make Mangalore into a hi-tech city, but he has not even been able to honour his promise to build a new bus stand. For allegations of corruption in KUDCEMP project leveled against him, Lobo tell us to ask his ex-officers and engineers as if they were all not part of the spoils. As for the BJP candidate (Vedavyas Kamath), the less said the better. I am ashamed to admit that I too was once in the same party as him because we can all see that he surrounds himself with criminals and persons who are accused of murder. Hence what good can he do to the city? It is high time we accept that all political parties have betrayed us. I urge you to vote for me and elect me. If you elect me, I shall do everything within my powers to improve the city."

Continuing on the same track he said: "Today the high rise buildings that you see show that the so-called development has reached only 30 percent of the people who are rich and can afford the luxuries. 70 percent of the people still live in difficult conditions. I will change all this and make development accessible to all. When Light House Hill Road and Lady Hill Circle naming issues came up, J. R. Lobo played communal card. If I am elected I shall see that Light House Hill Road is named after Mulky Sundaram Shetty and not St. Aloysius College, and Lady Hill Circle will be named after Narayan Guru. If necessary I shall also go a step further and replace all left over old British names with our own names."

Reiterating his position on Hindutva politics, he said "BJP has expelled me four years back for no justifiable reason and in gross violation of its own party constitution. But I trust Prime Minister Narendra Modi and the other national leaders. I am committed to the same ideology. Today we have our local MP Nalin Kumar Kateel who has not only betrayed his voters but also Modi and the party. In the next election, the voters should show him his place also."

In the course of his address Shrikar Prabhu made the shocking revelation that the BJP ticket was given to his opponent mainly because of coercion. He alleged that the four-time BJP MLA and the losing candidate of the last election Yogish Bhat was slated to get the ticket but he was forced to withdraw from the race after he was cornered by goons carrying dangerous weapons. "This sort of mafia culture won't work with me. If you elect me, I shall bring an end to all this."

Prabhu concluded his talk with the blowing of the conch, which was again a sarcastic dig at BJP as it was recently alleged that a conch given as a memento to Modi during a previous visit to Mangalore by one of Vedavyas Kamath's associates was an artifact stolen from a local temple. "This conch is not like the other more famous conch. We should all make the sound of this conch reach Delhi. Hence please vote for me," Prabhu said.



Write Comment
|

E-Mail
|
Facebook
|

Twitter
|

Print