Air quality monitoring station for Mangaluru
Mangalore Today News Network
Mangaluru, Jan 13, 2017: With air pollution rapidly escalating civic woes due to inhalation of hazardous contents in the air, Karnataka State Pollution Control Board (KSPCB) has decided to set up continuous ambient air quality monitoring station (CAAQMS) in Mangaluru.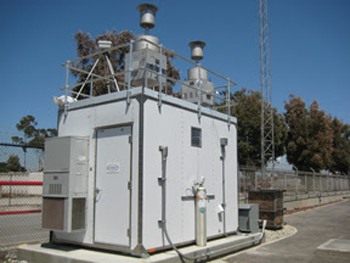 Mangaluru is one among the four cities including Mysuru, Dharwad and Kalaburagi where such stations will be set up at an estimated cost of Rs 1 crore each.

It will be in addition to recently launched mobile smoke emission inspection unit to check the polluting vehicles by the board along with regional transport office (RTO). The station with automated air quality recording system will be first-of-its-kind in the coastal city, after Bengaluru, where four such facilities have been already commissioned to keep a tab on increasing level of air pollution online. It is expected to be a reality in another three to four months as KSPCB regional office has already floated tenders for the purpose.

Sites surveyed : KSPCB Mangaluru regional office environment officer Rajashekhar B Puranik said, "An expert committee, made up of environment officers, senior scientific officers and others, recently visited the city and also inspected four sites - Town Hall precincts, Circuit House, Karnataka Polytechnic (KPT) premises and also Nehru Maidan. But a suitable place is yet to be finalised."

He said the station, once commissioned, will be monitoring ambient air quality at a particular area with the help of sensors and will display RPM level, ozone, Carbon Dioxide (CO2), Carbon Monoxide (CO), hydrocarbons, Nitrogen Dioxide (NO2), Sulphur Dioxide (SO2) and other contents in the air. With smoke from vehicles and also road dust being considered as major reasons for air pollution, the station wil be helpful in mitigating the impact by taking constructive measures in consultation with other departments.

Apart from recording air quality, the readings will be displayed on electronic screen above the station to enable people to see the results. .The data will be automatically shared with the regional office, as the station will be linked to the server in the main office. Environment officer of Chamarajangar, Prakash, one of the members of expert committee, said, "The guidelines prescribed for the site would need to be devoid of trees and skyscrapers in the vicinity to suit set up the facility."

Equipment : The equipment to monitor air quality will be installed at a height of minimum three metres to nine metres. The equipment includes respirable dust sampler or instruments, automatic meteorological parameter monitoring instrument capable of measuring wind speed, direction, relative humidity, atmospheric pressure and temperature, spectrophotometer, dessicator, spare air blowers etc, according to the guidelines for ambient air quality monitoring issued by the Central Pollution Control Board, Ministry of Environment and Forests, New Delhi.

Write Comment
|

E-Mail
|
Facebook
|

Twitter
|

Print