Academy president Dayananda Kathalsar on forward mode for Tulu
Mangalore Today News Network
Mangaluru, Dec 13, 2019: At a popular phone in interview on December 12, Thursday, Karnataka Tulu Sahitya Academy President Dayananda Kathalsar said that a proposal to set up Tulu Community Radio would be submitted to Kannada and Culture department.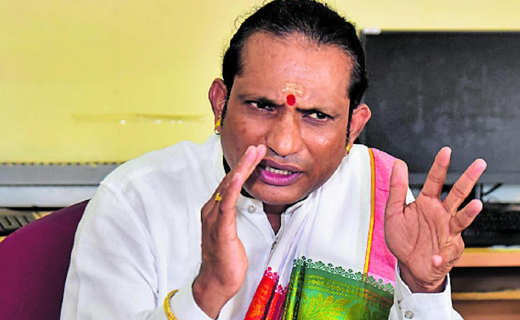 At least Rs 50 lakh will be sought for the purpose. The community radio will help in documenting Tulu culture, folklore and art by the Academy, he added.
The rich oral literature in Tulu is in the written form. However, classical poetry in Tulu and the rich tradition of folk epics or paddanas (sung narratives) which have their own authentic folk flavour need to be recorded. The setting up of the radio will help in recording the folklore narratives and document it for the future. The studio of the radio will also help in recording of short movies and short films in Tulu, he added.

"We are working on how the proposal on community radio can be implemented," he said.

The progress in including Tulu in the Eighth Schedule of the Constitution, Kathalsar said an action plan was being prepared.

Before including Tulu in the Eighth Schedule of the Constitution, Tulu should be recognised as a state language in Karnataka. MLAs from the district and Dakshina Kannada MP have promised to work in this regard. There was a lack of will among all those who were in power in the past to include Tulu in the Eighth Schedule, he said.

Kathalsar appealed to the people to start a postcard campaign to urge MLAs of Dakshina Kannada district to work for Tulu language and impress upon the government to recognise Tulu as a state language.

The Tulu Academy in Kerala too has promised to join hands with the Academy of Karnataka to get recognition for Tulu language. All should unitedly strive for recognition to Tulu language, he added.

Further, he said, ''We are lagging behind in projecting history of Tulu Nadu. Paddanas refer Tulu Rajya extending from Rameshwara to Neeleshwara and Neeleshwara to Ankola. Over a period of time, the dominance of other languages affected Tulu''.

He said 'Karavali Utsava' should become 'Tulu Utsava' highlighting the art, culture and tradition of Tulunadu. The district administration should also give priority to Tulu.

About Tulu script, the Academy President said an attempt was being made to create awareness on Tulu script with the help of various organisations. A meeting to discuss on Tulu script with experts will be held shortly.

Tulu likely to be introduced in PU courses.All attempts will be made to introduce Tulu as an optional language subject in Pre-University courses from next academic year, Karnataka Tulu Sahitya Academy President Dayananda Kathalsar added.

Tulu was already being taught in high school, undergraduate and postgraduate levels. Introduction of the language in PU has been pending. Even the syllabus is almost ready for PU courses, Kathalsar said speaking at the phone-in programme.

On digitalisation of old Tulu books and art forms the Academy president said, ''The Academy has a library with good collection of books. The digitalisation of Tulu books and art forms will be taken up by the Academy in the future. There are plans to seek support from philanthropists and donors for the purpose''.

The government had sanctioned Rs 6 crore to Beary Academy, Rs 5 crore to Konkani Academy and only Rs 3.6 crore to Tulu Academy. To which, Kathalsar said the government had sanctioned half-acre of land and Rs 4 crore for constructing Tulu Bhavana. He said Rs 3.6 crore was an additional amount sanctioned to the Academy to complete the work on Tulu Bhavana. In addition, the Academy had sought Rs 2 crore to set up a museum highlighting Tulu art, culture and age-old artefacts of the Tulu Nadu.

The Academy president said that the Academy was also planning to post a few videos on Youtube to help non-Tulu speaking people to learn Tulu language.

He appealed to the people of Tulu Nadu to write Tulu as their mother tongue during the Census to be held next year, to make Tulu language strong. There was a good amount of interest by the public.

Write Comment
|

E-Mail
|
Facebook
|

Twitter
|

Print