Abreo Violin Prodigies from Texas-USA enthrall crowd at 'The Little Sisters of the Poor' at Bajjodi
Mangalore Today News Network
Mangaluru, June 16, 2017: The much talked about splendid Violin performance by the Abreo Kids became a reality when they took the stage at the Home for the Old-age run by The Little Sisters of the Poor, Bajjodi here on Thursday, 15 June 2017. The "Abreo Kids" - namely Michael (18 yrs), Daniel (17), Christine (15), Maria (13), Jane (11), Rachel (9), John (7), Luke (5) and Joseph (3) gave a short and sweet violin performance of 20 minutes, which enthralled the seniors of the Old-age and the audience, who gave a thunderous applaud. These nine kids were accompanied by their parents, Dad - Dr Gerald Abreo, a Cardiologist, and mom – Nicole, all of them come down from Houston, Texas, USA.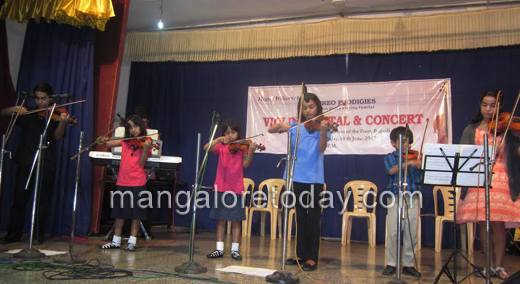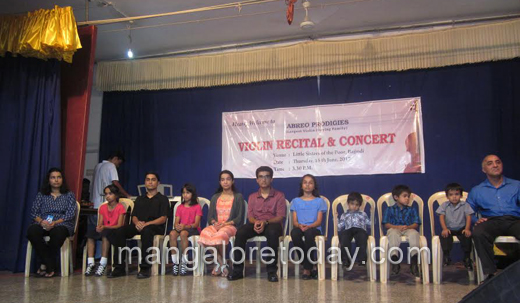 Prior to the formal concert and violin recital by the Abreo Kids, the local Music Band named "Sol-Melos" took the crowd into a musical world with their popular Konkani, English, Tulu and Kannada folk songs. The program began at 4 pm sharp with a prayer song by Sisters. After a brief introduction of the Abreo Family by Mrs. Zeena Mendonca, an efficient and seasoned compeer, it was time for the Abreo nonet to give their best performance. With their violins under their chins, they gave the open-mouthed audience a 20-minute rendition of solos, duets and medleys. The musical performance, rendered with rare precision, was composed by Michael for which he selected sections of each sibling's recital pieces and put it into a medley. Musical tunes namely "Jimmy Fiddles a Tune"; "Two Grenadiers/ Witches Dance"; "Donkey Doodle"; "Puppet Show"; "Seitz"; "Irish Canon" and "Pirates of the Caribbean" were performed by the Abreo nonet, which received thunderous applaud from the audience. Two of the young sisters also gave a foot-tapping Irish dance performance, which once mesmerized the audience.
The Abreo Violin Family is a great Ambassador to Indian Value systems. They are humble, humane and compassionate towards people. The family care for others. The family also care for everyone. To make both ends meet is a phrase about balancing revenue and expenditure. People are afraid to have more children because of economic factors. When we look at the family, we see the blessings in many aspects. Dr. Gerard Abreo is a simple human being a Cardiologist having his own clinic and practice in Texas, America. He is a Sportsman, musician, home maker and society builder. In the family of Dr. Gerard Abreo, we see a family that value very much about Indian value systems. Even when they live in the modern social environment that care for nothing, Dr Abreo and Family care for everyone and everything.

The Chief Guest for the programme, Ms Cecilia Albuquerque (managing a 150 year old Tile business - A Albuquerque and Sons in Mangaluru) addressing the gathering said, "I really compliment the talented nine Abreo kids who gave us a superb violin performance. Just like their parents, these kids have followed in their parents footsteps to be great musicians. Without music, life would be a mistake. Music gives a soul to the universe, wings to the mind, flight to the imagination and life to everything. Music is a language that doesn't speak in particular words. Music in the soul can be heard by the universe. I also compliment the Abreo parents for raising their kids with music talents. We should also follow in the footsteps of this family – having a family with many kids is always fun. It's always a blessing when we have many kids in the house".
After being honored for the Model Family Life at the occasion, Dr Gerard Abreo said, "Material prosperity when goes into our heads causes damage to our faith in God. We should not allow anything to challenge our faith in God. Faith lost is equal to life lost. My inclination to the little sisters began in my college days. It is incredible serving the aged and poor when no visible rewards are attached to it. What makes people to serve the less privileged is the faith in God. The west is struggling to bring back God into their life. Families are scattered and shattered. People turn their back to God. They believe their wealth can bring them happiness. At the end it is distrust and loss to humanity. It is always better to be poor in spirit. But the Little Sisters of the Poor have healed many people by taking care of them. We can see the emotional healing, physical healing and mental healing of the inmates and we can see the real healing of these lonely people who gathered here in large numbers. We always like to come back to Mangaluru and perform for these older folks, and I promise I will be back again. Thanks for your patronage and making my family happy with your presence".
The family of nine children and their parents were honoured during the Program. Nicole, the mother of nine was honoured and felicitated in special, being her birthday soon. The family had inherited musical talents from her father Mr. Gerald Lobo and Uncle F M Lobo of "Sangeeth Vihar", Bejai. The Abreo family members were honored with garland and flower bouquet. Dr. Gerard Abreo by Chief Guest, Cecilia Albuquerque, a Well known Classical Violinist & a talented wizard on the violin); Ms. Nicole Abreo by – Rev. Sr. Josephine, Mother Superior, 'The Little Sisters of the Poor', Bajjodi;

Michael Abreo by Dr. Michael Lobo (Well-known Geneologist who has written several volumes about the Konkani Christians of South Kanara,
Daniel by Rev. Fr. Valerian D'souza (Parish Priest of Milagres Church, Mangaluru);
Christine by Sr. Olivia A.C. (Former Principal of St. Agnes College);
Maria by Comm. Tony Sequeira
Jane by Sr. Ancilla Pinto (Mother Superor of St. Anjela's convent, Bejai),
Rachel by Mr Romeo D'souza, (He held a high position in IIT, Madras and was also placed at Nigeria;
John - Mr. William Pais (A renowned Social Worker)
Luke by Dr. S.A. Mariodoss (Prof. of Mathematics & Music);
and Joseph by Mr. Sudhir Raj Kotian (Principal of Xavier Industrial Training Centre).

The Program was compeered by Dr. Jerome Pinto and Mrs. Zeena Mendonca.
In the Vote of Thanks, Mr. F M Lobo (Convener) thanked the Chief Guest and all dignitaries, Residents and others. He specially thanked Mr. N.V. Paulose of the Global T.V. for organizing a Press Meet at Hamsmart, City.

Write Comment
|

E-Mail
|
Facebook
|

Twitter
|

Print