AWBI - Animal Welfare Board asks to stop Kambala
Mangalore Today News Network
Mangaluru, Dec 22, 2015: Taking up a complaint from PETA India, the AWBI- Animal Welfare Board of India has sent a letter to the state's chief secretary, the Udupi DC, Dakshina Kannada DC and officials in the Department of Animal Husbandry and Veterinary Services asking that immediate steps be taken to stop the Kambala events that are planned to be held in the state as per the Kambala calendar for the year 2015-16.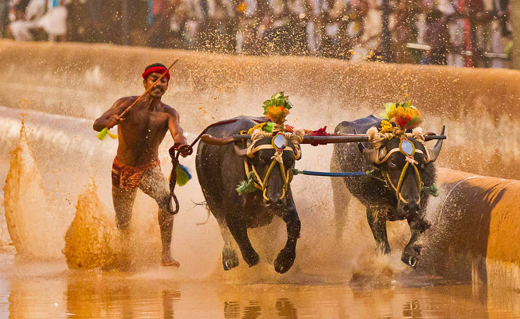 In its letter, the AWBI pointed out the Karnataka High Court, through an interim order dated December 15, 2014, issued an interim stay on the orders of officials of Udupi and Dakshina Kannada districts which limited the holding of Kambala to certain conditions last year. However, on April 10, 2015 the Karnataka High Court dismissed those orders, stating that they can no longer be considered since the events have already been held by the organisers.

This means that the orders issued by the administrations of Udupi and Dakshina Kannada districts prohibiting Kambala events - and upholding the May 7, 2014 judgement of the Supreme Court which bans bull races in all of India - are still in force and Kambala events cannot be held.


The AWBI also emphasised the order of officials of Udupi and Dakshina Kannada districts are not limited to Kambala events organised in 2014-15 but are permanent, and the policy decision of the Ministry for Law and Parliamentary Affairs of Karnataka State dated 14 November 2014 also prohibits these cruel events.


The AWBI conducted inspections of three Kambala events in 2014-15 which resulted in the filing of 65 non-cognisable offence complaints and one first information report at local police stations. The inspection reports explained the apparent violations of the specific conditions set by the Karnataka High Court under which it allowed Kambala, and it was proved beyond doubt that Kambala events are inherently cruel and are no different from bull races and jallikattu, which are banned by the Supreme Court in the entire country.

"There is absolutely no room in today's civilised society for races that involve forcing already overworked bulls to run out of fear and the threat of physical abuse, and India's Supreme Court has already confirmed that", says PETA India Director of Veterinary Affairs Dr Manilal Valliyate. PETA is asking Karnataka State to uphold the law and the Supreme Court judgment and spare animals needless suffering.

Write Comment
|

E-Mail
|
Facebook
|

Twitter
|

Print