APD Submits 'ShuddaGaali' Technical Report of Air Quality levels of Mangaluru
Mangalore Today News Network
Mangaluru, Mar 04, 2017 : Following a detailed study carried out under its 'ShuddaGaali' project in association with St. George's Homeopathy, APD Foundation has submitted its Technical Report & Assessment of Air Quality levels of Mangalore to Sri B. Ramanath Rai, Hon'ble Minister for Ecology, Forests & Environment & DK District In-Charge.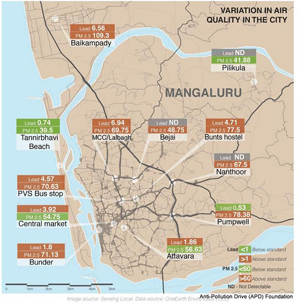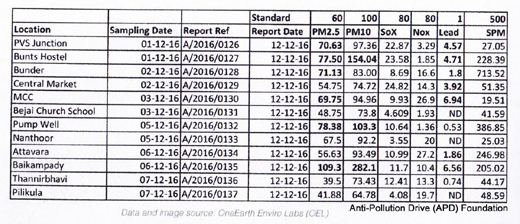 A delegation comprising APD Foundation Founder Abdullah A. Rehman and State Coordinator Arjun Rai called on Sri B. Ramanath Rai at his residence on Saturday, 28th January 2017 and handed over the report to him. They explained to him the long term implications of the results obtained from the study and urged him to initiate remedial measures to curb air pollution.


APD Foundation had conducted an independent investigation of air quality of Mangalore in the month of December. The study was undertaken by technical experts from OneEarthEnviro Labs (OEL), Baikampady and samples were collected from 12 key locations of the city for an 8 hour period from 1st to 8th December 2016. The study was sponsored by St. Georges Homeopathy, Mangalore and coordinated by Neil Zacharias.


The report reveals high lead content in air and bears borderline indications of approaching danger on other parameters. Six outdoor air pollutants were measured in the drive. They were particulate matter (PM); PM10 (inhalable particles, with diameters that are generally 10 micrometres and smaller) and PM2.5 (fine inhalable particles, with diameters that are generally 2.5 micrometres and smaller). Once inhaled, these particles can affect the heart and lungs and cause serious health effects. The other pollutants are: Nitrogen Dioxide (NO2); Sulphur Dioxide (SO2) and lead.


Of the six parameters measured, PM2.5, PM10 and lead have been observed to exceed the permissible limits in a few locations. PM2.5 and PM10 were found to be high in three of the 12 locations (Bunts Hostel, Pumpwell and Baikampady), and PM2.5 alone in six of the 12 junctions (PVS junction, Bunts Hostel, Bunder, MCC, Pump Well and Baikampady).


Though the study found the overall air quality to be good in most locations in the city, there are indications that it could worsen in the long run. Only timely action can prevent the city from sinking into adverse and irreversible condition in air quality. Hence APD Foundation has requested the authorities to take immediate action and ensure a complete check on air pollution. Such proactive measures will also go in tandem with the successful implementation of SwachhMangaluru initiatives of the city corporation.
"It is very essential that CNG is made available in the city and public transport vehicles adopt CNG/LPG at this juncture. While it's compulsory to have BS-IV vehicles across the country, Mangaluru still sees BS-III vehicles plying on the road. We are hoping the administration will take immediate action to prevent any further damage to the environment and the citizens," said Rehman of APD Foundation.


"Smoke emitting vehicles are visibly the largest contributing factor seen all around the city polluting the air. We have also requested the authorities to enforce Section 190(2) of the Motor Vehicles Act, 1988 &Rule 115 /116 of Central Motor Vehicle Rule 1989s effectively in order to encourage better maintenance of the vehicles," added Arjun Rai, State Coordinator of APD Foundation.


Write Comment
|

E-Mail
|
Facebook
|

Twitter
|

Print