AMC Mangalore conducts Medico Legal Symposium 2016
Mangalore Today News Network
Mangaluru, June 2, 2016: AMC (Association of Medical Consultants) Mangalore conducted a day long CME program called "Doctors and Law" on 29 May 2016 at the IMA House to improve awareness among Doctors on the LEGAL Perspective to their rights and responsibility. Various issues faced by healthcare today, from the perspective of both doctors and patients, were analysed and solutions suggested keeping the existing legal framework as the reference.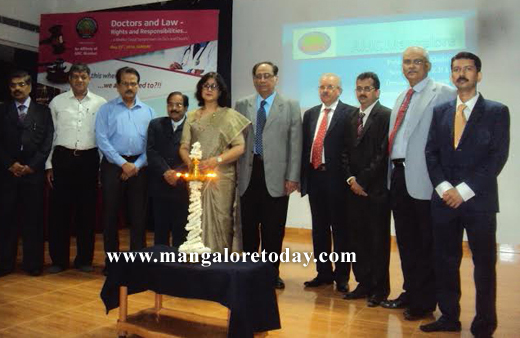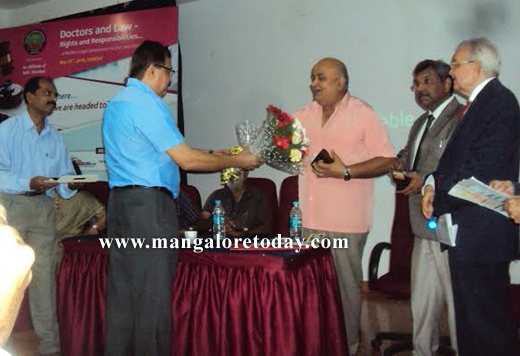 Talks by notable speakers from Mumbai and elsewhere included issues related to working of medical councils, Recovery of hospital bills, Providing better care to rural population, Violence in hospital and rising complaints of negligence against Doctors.

Justice Santosh Hegde addressed the doctors by video conferencing, He agreed that unless the government funding in Healthcare rises from the present 1.3% by at least ten times justification of healthcare to our population will be mirage. He lamented that people in our country once elected to professional bodies like Medical Council and Bar Council conveniently forget the welfare of the very people they represent.

Dr. Rajvir Pratap Sharma IPS, ADGP from Bangalore addressed the doctors and reassured that they need not be worried about frivolous complaints of negligence that reach the police.Doctors from Mangalore actively involved in Q&A with the ADGP.

Prof. Narendra Nayak, activist thinker and rationalist, rued the lack of support by Doctors when he wanted to take action against quacks. AMC promised him full support in the coming days for such initiatives by him. Shri Ronald Fernandes, Mangalore Bureau Chief of Deccan Herald emphasized that when there is a news report regarding a Medical Event, Doctors and Hospitals should not hesitate in giving their version of the events. In fact this needs to be done with the utmost urgency.

A Court Moot proceedings was held by Adv Shankar Bhat, Prof. Maheshchandra Nayak and Adv. Rammohan Jois, to illustrate the roles of various people in a Consumer Forum proceedings. The Court presentation was the first of a kind in the district where doctors had first hand experience of the inside court room experience.

The CME was well attended with active participation by all medical professionals of different specialties from Dakshina Kannada and neighboring districts.

Vote of thanks was proposed by Dr K.R.Kamath on behalf of the President of AMC Dr . Shubhakar Bhandary.


Write Comment
|

E-Mail
|
Facebook
|

Twitter
|

Print