A two day Rosary exhibition at Milagres Hall
Mangalore Today News Network
Mangaluru, Sept 29, 2018 : The Inauguration of two day exhibition of Rosaries and Konkani Marian literature was held today at Milagres Jubilee hall.

Most Rev Dr Aloysius Paul D Souza, Bishop Emeritus inaugurated an exhibition by colouring Mary's image drawn on the spot by Shabari Ganiga the famous artist of India.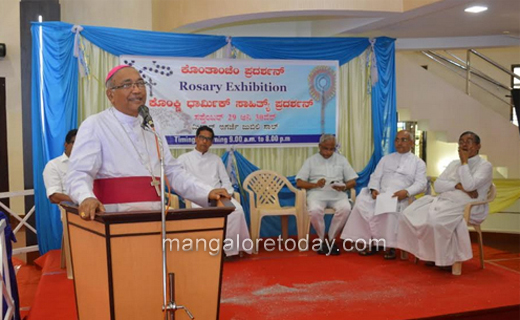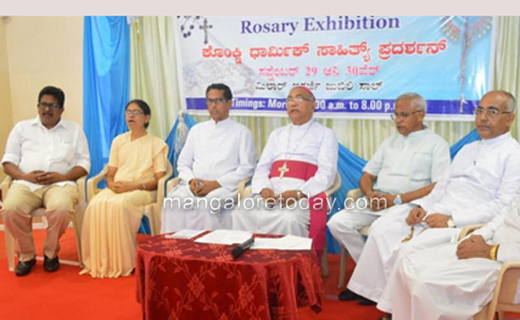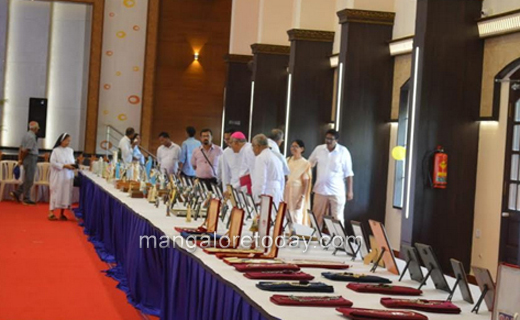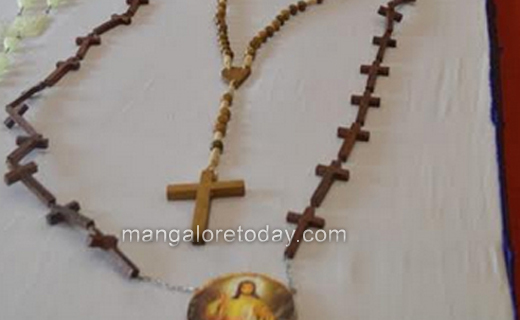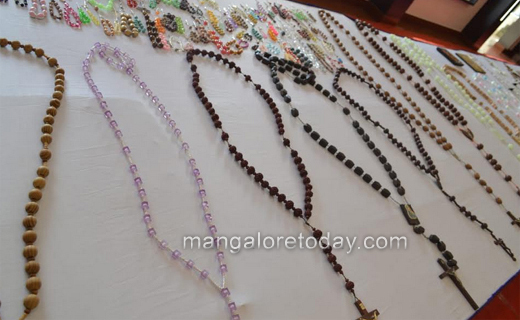 In his address, former MLA J R lobo said that present generation has lost the value of the rosary in the families but, such celebrations result in their faith renewing and we all pray so, he said, adding the exhibition must inspire the people to pray the rosary in the families.

He appreciated Mr Sabu who has more than 50 thousand collection of rosaries, crosses statues of Mary. He was overwhelmed with drawing of Mother Mary by Ms Shabari and said unless and until one contemplates on Mary, cannot draw such a master piece.

Bishop Emeritus in his address quoted St John Paul II and his devotion to Mother Mary which is an inspiration to us. Praying Rosary saves us as it saved St John Paul. He congratulated Fr J B Crasta the Rector of Cathedral for organizing the year of Rosary in memory of 450 years of the church in Mangalore. He congratulated and blessed Ms Shabari Ganiga for her beautiful drawing of Immaculate Heart of Mary.

This exhibition is open for the public 29 - 30 September 2018 from 9 am to 8 pm at Milagress Jubilee hall. Mr Sabhu Caithar who created Limca Record in collection of 50000 Rosaries from various countries more than 500 statues of Mother Mary, variety of crosses will be exhibiting them at the hall.

Most Rev Aloysius Paul D Souza bishop Emeritus, Msgr Maxim Noronha the Vicar General , Shri J R Lobo former MLA , Fr J B Crasta Rector of Cathedral, Fr Valerian D Souza Parish Priest Milagres Church, and Mr Sabhu were present on the dais among many present.


Exhibition Information :

A unique exhibition of rosaries and related religious articles with essential information was inaugurated at the Milagres Jubilee hall, the talk of Mangalore coastal areas. Most of the collection material and motivation came from a Keralite enthusiast and collector Sabu Caiter and family who were very present and interacting with delighted visitors who poured in. Here, at Mangalore is his second visit, last time in November 2017, he held an exhibition for a week which attracted thousands from all around Karnataka. Now, he is embarking on his 11th year, and to mark the mile stone, he has added rare italian statuttes and pictures of Mary the Mother of Christ and it is an added attraction now.

"Rosary" is a chain of beads used by Catholics in a string of prayers dedicated to Mary, the Mother of the Christ. The word Rosary means "Crown of Roses", indicating a crown of prayers. The rose is the queen of flowers, and so the Rosary is the rose of devotions and it is considered an important prayer. In 1569, the Dominican Pope Pius V, officially established the devotion to the rosary in the Catholic Church. The year 2018 is set to be dedicated to the Rosary by the Universal Church and also marks 450 years of it's arrival on the shores of Mangalore .

Sabu Caiter Family collection : Hailing from Kerala, the story of this rare collector of rosaries and mementos is well on the way to be a legend. He very solemnly proclaimed at every turn, the exhibition aims to motivate people to increase the practice of family prayer. Sabu Caiter's passion goes back near 40 years, he just entered his teens. It helped that both his parents were avid rosary collectors. Soon, Sabu excelled and when relatives and friends abroad asked him what he wanted, he always said, " A rosary that is different." As a result of his constant effort his collection now is a wonder, with every rosary different from the other.

The collection grew rapidly after he received two rosaries at Velankanni. His collection consists of rosaries gifted to Sabu by Popes, Bishops, Cardinals, Priests, Nuns, relatives and from his friends across the globe and grows rapidly. He has been fortunate enough to be gifted with rosaries used by Saint Mother Teresa, which she gave him in person. Rosaries made of gold, silver, ruby and emeralds are in his possession. A rosary costing about 5 lakhs, made in Singapore with white gold and red diamonds is the costliest. His prized possession includes a rosary given to him by Pope Francis. His request to Pope Francis for a rosary, brought also special blessings from the Pope, not only in the form of the Rosary which he wanted but also a rare Holy Cross, a memento and a letter by the Pope, for Sabu's commendable work - this definitely serves as his most powerful motivator.

His wife Benetta and son Francis Aghil, are also contributing to this effort and are accompanying him here. The recent floods in Kerala has not dampened his spirits and he says he will use this oppertunity to help in possible ways his fellow people in 'God's own country'.


Write Comment
|

E-Mail
|
Facebook
|

Twitter
|

Print