A lone elder maintains river ferry connecting Innoli to Mangaluru
Mangalore Today News Network
Mangaluru , June 29, 2017: Nethravati river navigator, Saphalya, 66 years old, with his small country boat, is the lone connector for many in Innoli to reach them to Farangipet on Mangaluru-Bengaluru National Highway, on the northern bank of the Netravati. The waterway is still the shorter route to get on to the national highway from the village.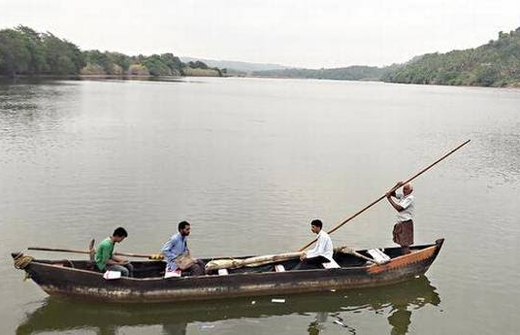 Once he was the only angel for the people of Innoli, a remote village on the southern bank of the Netravati, off Mangaluru. Over time, roads were laid and people of Innoli were no longer dependent only on the boat and the only boatman, Narayana Saphalya.

Five decades rowing the boat for more than 12 hours round the year with no holiday, Saphalya appears to be content with his life. "I start my day at 6.30 a.m. and tie the boat back at 7.30 p.m., having breakfast, tea and lunch aboard the boat," smiles the saintly calm man.

He mentioned that the boat was passed on to him by his father and was probably from his elders and has provided the family with a living.

He said he did not get an education and had the responsibility with my father at the age of 16. Adding he was very happy as hundreds of children, including his own, from Innoli were educated at Farangipet and had used his boat. His three sons are now settled in their work/businesses and a daughter is married. "I will continue to row the boat till my shoulders are strong," he smiled.

Though outboard engines have come to stay to power boats, Mr. Saphalya cannot use one during summer as the water levels recede on the banks. He has to depend on the paddle and pole to navigate. A few kind-hearted passengers take the paddle occasionally. "Of course, I use the outboard engine during monsoon when the Netravati swells," he said.

His life has moved on with the Netravati and has been fascinating. He said the force of the water has weakened over the years. Once it used to be a hard task to row the boat when Netravati's force used to be at its peak. Many also feel his skill has helped ease matters for all.

Write Comment
|

E-Mail
|
Facebook
|

Twitter
|

Print