A grave concern at water scarcity in coastal areas
Mangalore Today News Network
Mangaluru, Mar 13, 2015: Delivering the inaugural address at the International Conference on Water Resources, Coastal and Ocean Engineering (ICWRCOE-2015), organised by Department of Applied Mechanics and Hydraulics at NITK - National Institute of Technology Karnataka, Surathkal, here on March 12, Union Ministry of Earth Sciences Secretary Dr Shailesh Nayak said that the Centre has launched 'Mission Monsoon' programme towards improving rainfall predictions and towards addressing the challenge of seasonal and climate changes, he also added government is working towards a better climate prediction system and to study the consequences of climatic changes in a more systematic manner. The water cycle has a significant role in the global energy cycle. But, there has been phenomenal change in that.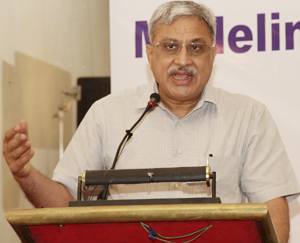 The present land cover, stripping of forests, construction of dams, various means of extracting water and other modern human activities have seriously changed the evaporation and precipitation patterns. Due global heating and climate changes, there are on going changes in the flow of water from glaciers into rivers and the seas.

Union Secretary, Dr Shailesh Nayak explained water scarcity is turning out to be a serious problem in coastal regions too. Following scarcity of water, desalinated sea water is being used for industry which is an expensive process. Also environmental issues such as pollution are yet to be resolved. A serious problem of releasing pesticide residue, nitrogen and phosphorous in to the surface water needs to be tackled as this can have an adverse impact on human health.

This aspect is showing an adverse affect on fish as well as other life forms. The industrial affluent in turn mix with the oceans through rivers. Dedicated planning is needed for river cleaning projects. He meanwhile expressed concern of providing fresh water in the ecosystem.

Eco imbalances : The ecological balance of oceans is a critical matter for the future, a need may be fore seen to depend upon oceans for Cobalt, Nickel and other metals. Deep water technologies need to be built in this regard, he said. Speaking on interlinking of rivers, he stated that transfer of water across the basin requires lage amount of energy. He envisaged a change in existing modelling framework and said that key scientific factors need to be used as inputs for future projects including distribution of available water resources.

Anna University, Chennai, Centre for Research Director and Centre for Water Resources Professor Dr Usha Natesan was the guest of honour, NITK Director(in-charge) A Kandasamy and others presided over the inaugural programme. Several ecological problems are being examined.

Write Comment
|

E-Mail
|
Facebook
|

Twitter
|

Print