A child's rights and education a part of the development of a nation - DC at awareness meet
Mangalore Today News Network
Mangalore, Aug 20, 2014: DK Deputy Commissioner A B Ibrahim, addressing a gathering during the inaugural ceremony of an awareness programme on protection of child rights and duties of society, organised by Shikshana Sampanmoola Kendragala Okkuta and Child Line 1098, at Roshani Nilaya College on August 19.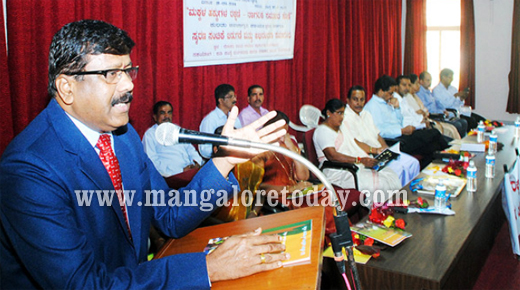 The DC said, " A child's rights and education are an indelibly a part of the development of the nation. The absence of basic education of children makes their rights non-existant. Though we have more than 5,000 years of rich history and culture, we failed to provide education to all children below 14-years of age. It seems our education system losing its importance this should be prevented positively. This phenomena will result in great numbers of uneducated youth, social problems and our democracy may collapse. So, we should provide education first and childrens rights will naturally follow."

Speaking after releasing 'Kanaja,' a souvenir, DK District Juvenile Justice Board President and Judge Pateela Nagalingana Gowda said in the last year major changes have been done to Juvenile Justice Act after Delhi gang rape incident and the responsibility of board members has increased. After observing the crime committed by children belonged to the age between 16 and 18, it was decided to take future steps.

Expressing his concern about increasing juvenile crimes, Gowda said: "We have act against miscreants who use children as tools and there is a need of diverting children from criminal influences." District Child Welfare Committee (CWC) former president Asha Nayak rued that though people of Dakshina Kannada are considered educated, many sexual harassment cases on children are being reported from this region.

In the past three years, more than 60 cases of sexual abuse have been filed. One can not blame the government each time, but every citizen of society should try his level best to curtail this nuisance, she said.

Inaugurator, DK Zilla Panchayat President Asha Timmappa Gowda blamed parents for increasing juvenile crime rate. Joint families have become nuclear families and in many families there are no aged and eldeers to teach values to children. Parents failed in respecting elders and children do the same. Upbringing of children in the first five years is vital. If child go on to wrong paths, it is the responsibility of parents, more than society, she noted.

Assistant Labour Commissioner D G Nagesh said that the State government has appointed Children's Security Officer, at every district centre for the protection of children. The Department of women and child welfare has appointed Makkala Mitra at gram panchayat-level. They help in admitting dropouts back to school, he said. The dignitaries expressed concern over increasing juvenile crimes at the workshop.

Felicitation : DC A B Ibrahim felicitated CWC immediate past president Asha Nayak, members Lavanya A Shetty, Dr Sufala F Kotyan, Maheshchandra Nayak, Manjula A Rao, Juvenile Justice Board President Pateela Nagalingana Gowda, Members Srilatha and Dr Rameela Shekhar.
He also welcomed CWC President K Nikhesh Shetty, Members Umesh Nirmal, Kasturi Boluvar, Radha Rao B, Sr Mariola BS and Juvenile Justice Board Members Rennie D'Souza and Srilatha. Shikshana Sampanmoola Kendragala Okkuta President Madhava Gowda Sulyakodi, ZP Education and Health Standing Committee President C K Chandrakala, District Children's Protection Officer Usman, PADI Institution Director Rennie D'Souza and others were present.



Write Comment
|

E-Mail
|
Facebook
|

Twitter
|

Print