A big step towards 'Shuddha Gaali', clean air project in city
Mangalore Today News Network
Mangaluru, Dec 12, 2016: Reports say that a city-based NGO has taken up 'Shuddha Gaali' pure air, a project to assess the air quality at 12 prominent spots.

The project is floated by APD Foundation in association with St George's Homeopathy, a firm promoting better health. One Earth Enviro Labs, a Mangaluru-based laboratory, is gathering the data. The results will be submitted to the government for perusal and action. This will also help Mangalureans understand air quality levels based on five different parameters in their areas.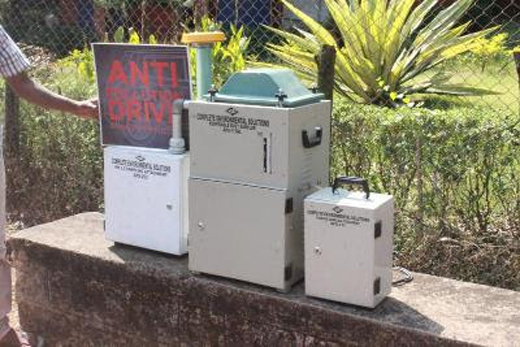 "In the drive to make Mangaluru the least-polluted city in the country, we'll monitor air pollution, principal sources and begin work on mitigation of pollution at the points of origin. Pilikula was the last of the 12 spots we identified to test air quality," said Abdullah A Rehman, founder, APD Foundation.

"Air pollution is the silent killer and considered a major cause of death and the source of many life-threatening diseases, affecting vital organs of the human body. Ranked the fifth largest killer in India, it's also the most contributing cause of asthma in children. Mangaluru is ranked eighth among the cleanest cities in India and is among the least-polluted cities. But in the recent past, with drastic increase in population, vehicular movement and unplanned infrastructure development, the city has seen a rise in traffic congestion and pollution levels. The growing menace of air pollution in New Delhi has raised many tough questions," Abdullah said.

The government has placed air quality monitoring station in Baikampady, an industrial enclave while residents live in the city limits. "We have no understanding of the air quality measures in areas of our residence or work. We have no understanding of quality of air our children breathe in their schools. In the light of this concern, APD for the citizens of Mangaluru, has aggregated experts to commence a study on air quality of Mangaluru city. This project will vastly bridge the gap for the Government to act accordingly in terms of mitigation of air pollution in the city and to achieve the status of least polluted city in India. This project will also help us to understand if the Air quality in Mangaluru city limits meets the National Ambient," he said.

Ambient air quality monitoring under five parameters including particulate matter (SPM/RSPM), PM10, SPM, PM2, SO2, NO2 and lead have been done at PVS Junction, Hampankatta, Bunder, Central Market, Lalbagh, Bejai, Jyothi Circle, Nanthoor, Baikampady, Pumpwell, Kankanady and Attavara for eight hours. Within 10 days, a detailed analysis will be submitted to the district administration, Karnataka State Pollution Control Board and district in-charge minister B Ramanath Rai, who is also the minister for environment.

Write Comment
|

E-Mail
|
Facebook
|

Twitter
|

Print