33rd week 'Shramadan Swacchata Abhiyan' by RKM on July 21
Mangalore Today News Network
Mangaluru, July 22, 2019: Week 33 of 'Shramadan for Swacchata Abhiyan' by Ramakrishna Mission (RKM) was carried out in Bikarnakatte July 21, Sunday. The shramadan was jointly flagged off in front of Main dwara of Infant Jesus Church in Bikarnakatta by Rev Wilfred Rodrigues OCD, Director of Infant Jesus Church and Anil Kumar, Regional Head, Epson India Ltd. On this occasion, Jayaraj Gowda, Kodange Balakrishna Naik, Shubhoday Alva, Prof. Sheshappa Amin, Vasanthi Nayak, Sunanda Shivaram, Sunil Pandeshwara and other volunteers were present.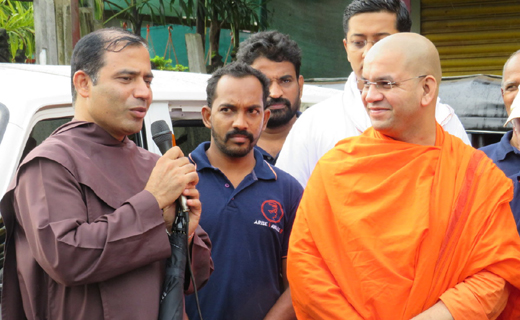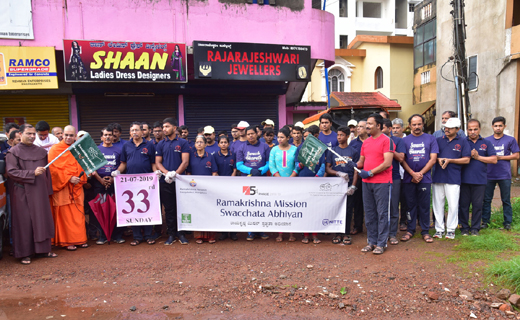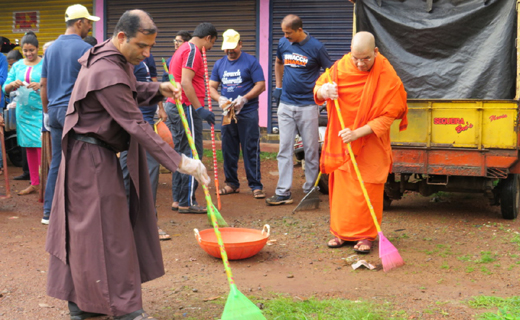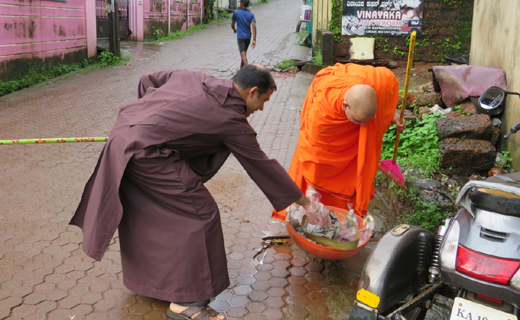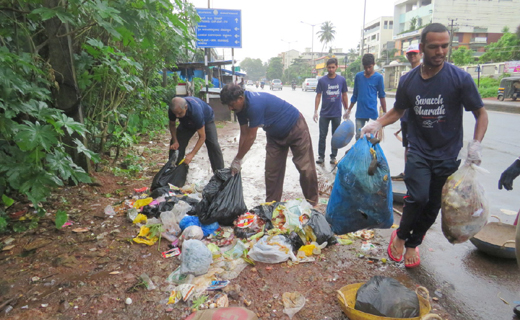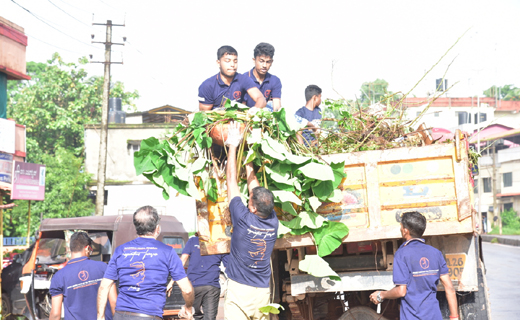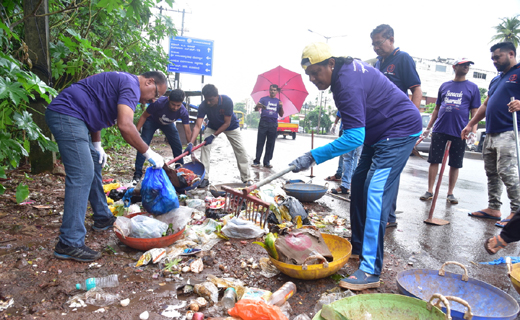 Speaking on the occasion, Rev Wilfred Rodrigues said, "Cleanliness is our primary responsibility. Instead of placing all responsibility on the Government to get works done, we must start do our part well too and motivate the Government officials. We have to walk the talk - start doing in the spirit of yoga. Major changes in the society has to be initiated by all concerned. Only common men can bring about a change for the better. Institutions like Ramakrishna Mission (RKM) are taking the lead and initiative in motivating the public to work for
the right cause with the dedication, consistent efforts of volunteers behind this is praiseworthy. Through cleanliness, Dengue, Malaria can be prevented. Each one of us should join our hands is realising the dream for a Healthy Society."

Convener of the Abhiyan, Swami Ekagamyanandaji said, "Volunteers of the Abhiyan will create awareness among the residents and common people about Dengue, Malaria, how to keep their areas clean and how to prevent these diseases. Already team of volunteers has been formed and they will visit houses from door to door and educate the common people."

Shramadan: Three teams were formed under the guidance of Umanath Kotekar. Heaps of garbage near Kaikamba Overbridge were removed and the spot was cleaned by volunteers under Umakanth Suvarna & Damodar Bhat. Second team of volunteers under Dilraj Alva, cleaned the area near Nanthur Circle and removed heaps of garbage and cleared the drains. Aniruddh Nayak, Shivu Puttur & other volunteers cleaned the area near main entrance of Infant Jesus Church and levelled the ground. Sudhir Noronha guided the volunteers in removing heaps of garbage below Bikarnakatte flyover using JCB. Overgrown weeds were removed from the road dividers and footpaths. Many old tyres were seen lying in a nearby garage and they were removed and the garage owner & workers were educated about right disposal of used tyres. A Bus shelter was erected in Vamanjur last year. It was cleaned, seats were painted and ; hoardings about cleanliness were fixed there by Ravi K R and others.

Dengue Malaria Awareness Abhiyan: Volunteers of Ramakrishna Mission will be carrying out a Abhiyan to educate the residents and common people about Dengue and Malaria which are spreading fast in Mangalore. From Tomorrow areas of Mulihithlu, Jeppu, Gujjarakere will be covered by volunteers who will be visiting houses from door to door creating awareness about cleanliness, how to keep their houses and surroundings clean how to prevent Dengue – Malaria etc. Suresh Shetty will be leading and guiding
the team. MRPL is sponsoring these drives.

*** Contact – 9448353162 - Swami Ekagamyananda, convener, Ramakrishna Mission Swacchata Abhiyan.

Write Comment
|

E-Mail
|
Facebook
|

Twitter
|

Print