26/11 hero Major Sandeep Unnikrishnan's plaque vandalised in Bengaluru
www.mangaloretoday.com
Bengaluru, September 17, 2018: A granite slab erected in Bengaluru in the honour of 26/11 martyr Major Sandeep Unnikrishnannan was vandalised by unidentified miscreants on Sunday evening. Following the vandalism, there has been a massive outcry over the incident.

"We're anguished to know that Major Sandeep Unnikrishnannan's board of granite slab erected on a brick structure at Yelahanka in Bangalore has been smashed. We're requesting for immediate erection of board and investigation to punish culprits," Soldiering tweeted.
The Congress and Bharatiya Janata Party (BJP) also joined in condemning the act and called for immediate action against the culprits.

"Am shocked to learn about the damage that has been caused to Major Sandeep Unnikrishnan's memorial in Yelahanka. I have asked @BBMPCOMM to ensure that this is set right immediately," Karnataka Deputy Chief Minister Dr Parameshwara tweeted.
BJP MP Rajeev Chandrashekhar urged the government to restore the memorial before the 26/11 anniversary. "Dear @DrParameshwara @hd_kumaraswamy - This is shameful treatmnt of sacrifice of #Namma #Bengaluru braveheart #SandipUnnkkrishnan tht too just a few days bfr 26/11. Urge u promptly restore this bfr 26th n track dwn crimnls bhnd this act," he tweeted.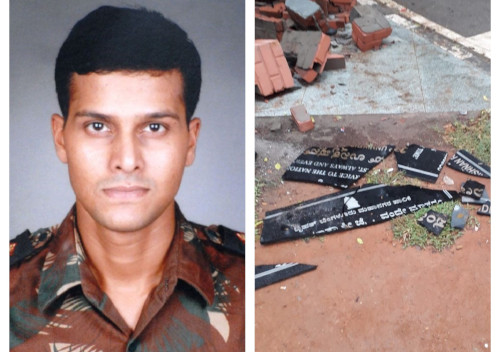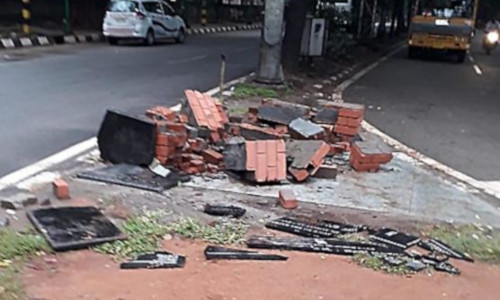 Major Unnikrishnan had died fighting terrorists in the 26/11 attacks in Mumbai. He was instrumental in rescuing 14 hostages from the clutches of terrorists who had swarmed the Mumbai hotel and killed hundreds of people. He entered the hotel in a group of 10 commandos and reached the sixth floor through the staircase. As the team descended the stairs, they suspected perpetrators on the third floor.

A few women were held hostages in a room which was locked from the inside. After breaking open the door, the round of fire by the perpetrators hit Commando Sunil Yadav, Unnikrishnan's colleague.

Unnikrishnan engaged the perpetrators in a gunbattle. He arranged for Yadav's evacuation for first aid.

Meanwhile, he chased the terrorists, who had escaped to another floor of the hotel. In the encounter that followed, he was shot from the back before later succumbing to his injuries.

According to NSG officials, his final words were, "Don't come up. I will handle them."

Courtesy: Zee News

Write Comment
|

E-Mail
|
Facebook
|

Twitter
|

Print