2013 Udupi Utsava finance irregulaties distrupt Udupi CMC meet
Mangalore Today News Network
Udupi, Dec 1, 2014: The proceedings of the monthly meeting of the Udupi City Municipality Corporation, was seriously disrupted by the BJP opposition, alleging glaring fiscal irregularities in transactions of Udupi Utsava which was held last year, 2013.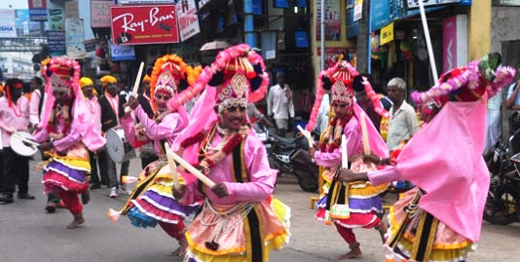 Opposition Party Leader M R Pai alleged misapproriation, forgery and corruption in the transactions. He demanded the balance sheet from bank and details be submitted before the house. The ruling Congress members said the opposition party members don't have moral right to ask the financial matters pertaining to Udupi Utsava, as they had boycotted the entire event. Yet, the concerned details were produced before the house earlier and there is no need to reproduce the same.

Arguments and counter arguments resulted in the obstruction of the proceedings. Opposition party members squatted in the well of the house demanding the balance sheet. The meeting was adjourned for 10 minutes. When the meeting reconvened, the opposition members once again demanded the clarifications on various points.

It was said, BJP Member Naveen Bhandari grabbed the agenda copy from the CMC Commissioner, while he was about to read the details. Meanwhile, the president Yuvaraj declared that all the issues in the agenda are approved unanimously and walked out. The opposition members shouted slogans against the president. A BJP Member Shetty said that it is murder of democracy. This is the first time that such a incident has taken place in the history of CMC, he said. The BJP members protest in front of the CMC later. They stated that the ruling Congress is involved in corruption in the Udupi Utsava finances. Congress is 'anti democratic' they accused.

The cheques related to Udupi Utsava have bounced. The ruling party has failed to provide proper details even after one year of the event the BJP states. Speaking to media, CMC President Yuvaraj said that the account details are clearly placed in the house. Rs 14 lakh was the profit amount last year. The funds were utilised for Beach Utsava. The balance is Rs 24,804. BJP does not have the right to demand details now and BJP is least considering the well being of people.

Write Comment
|

E-Mail
|
Facebook
|

Twitter
|

Print