19th Kannada Sahitya Sammelana inaugurated with enthusiasm at Polali - Valedictory on Aug.3, Sunday
Mangalore Today News Network
Mangalore, Aug 3, 2014: Day one of the two day Kannada Sahitya Sammelana organised by Dakshina Kannada District Kannada Sahitya Parishat was a popular and up-beat occasion in spite of the rainy weather. It commenced at Polali temple premises on August 2. Delivering presidential address at the inauguration of 19th Sammelan, retired professor and software expert K P Rao, expressed a need to overcome the obsession of scripts and liberate language and exchange of ides from all its shackles and chains.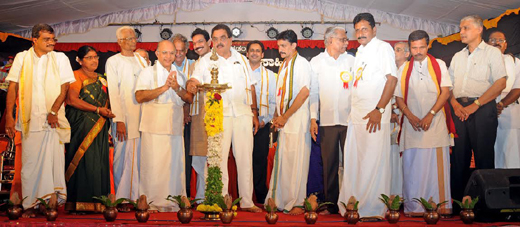 He said that the immediate need of the times was to improve existing Kannada fonts and make it convenient for other languages also to make use of Kannada fonts,instead of limiting it only for the use of Kannada.

"Efforts are on to develop Unicode for Tulu. In reality, there is no need of another Unicode for Tulu, as Malayalam Unicode can be used for writing. When developing Unicode system, the main intention was to develop a standard Unicode for all Indian languages. But now, different Unicode have been developed for each language. A standard Unicode will help in the exchange of knowledge among all languages in a much easier and better manner," he said.

Prof. K P Rao, stressed that Kannada script and font was not the property of Kannadigas, but it could be accessible to all. Kannada fonts should be developed in a way that will allow even Tulu, Beary, Konkani, Kodava and other languages to be written in Kannada script efficiently.

Prof K P Rao then gave a clarion call on the urgent need to shed the false impression that one language is above another . "Love all the languages as each language has its own merits and demerits. We should be open to the exchange of information and knowledge irrespective of the language limitations." He also stressed his unhappiness over the lack of government support and recognition for the initiatives of laymen in the cause of languages. All contributions for the promotion of Kannada to date, is due to the efforts of laymen and governments have neglected their roles.

Prof Rao said the honour bestowed on him to preside over this Sahitya Sammelana was a tribute to Attavar Ananth Acharya and Bassel Mission who have contributed significantly for developing Kannada fonts. Earlier, inaugurating the programme, District-in-Charge Minister B Ramanath Rai said love for the language is necessary, but in the extreme. He was referring to the border dispute that has recently raked up in Belgaum. When one starts fighting over language, various other aspects like caste, community, religion and all the rest enter and cause unrest.

This 19th Sammelana : The two-day Sahitya Sammelana was launched with a colourful ceremonial procession from Polali bridge to the programme venue in the temple premises. Apart from the president of the Sammelana, Erya Lakshminarayana Alva and Janaki Brahmavara were the only two litterateurs to be present on the stage. A book exhibition was arranged at the venue. Book enthusiasts were seen visiting the exhibition and buying Kannada books. An art exhibition was also held.

Felicitations : In the 'Vidvath Sanmana' felicitation programme, scholar Kodimajalu Anatha Upadhyaya, legal expert Nooyi Srinivas Rao, theatre person Sadanad Suvarna, Yakshagana scholar M Prabhakar Joshi, Yakshagana Bhagavath Agari Raghuram, researcher Prof A VNavada and folk scholar Palthadi Ramakrishna Achar were felicitated. The second day and valedictory of the Sammelana will be on August 3, Sunday.

Write Comment
|

E-Mail
|
Facebook
|

Twitter
|

Print