100 buffalo pairs to take part in 'Sathya Dharma' at Kakkapadavu
Mangalore Today News Network
Mangaluru, Nov 29, 2019: At least 20 Kambalas, including two traditional ones, will be held in Dakshina Kannada, Udupi and Kasargod districts from November 2019 to March 2020. The first ever Kambala (buffaloe race) this season (2019-20), 'Sathya Dharma', will be organised at Kakkapadavu Myra Bharkajaalu, near Uli village, in Bantwal taluk on November 30, Saturday.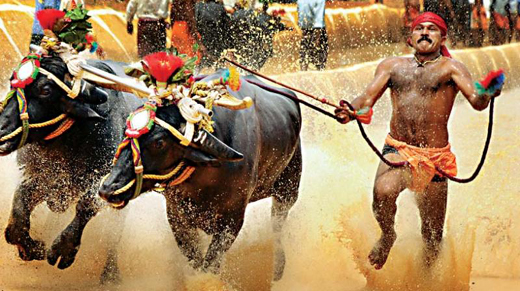 Kambala, a folk sport, is organised in a professional way. Owing to the efforts of entrepreneur M R H Punja and Gunapala Kadamba, who is heading Kambala Protection, Care and Training Academy, the Kambala has witnessed many changes after PETA's (People for the Ethical Treatment of Animals) petition seeking ban on it was referred to the division bench of Supreme Court in 2018.

Jilla Kambala Samithi (comprising Udupi, Dakshina Kannada and Kasargod districts) President P R Shetty told media that organisers of Kambala had been briefed on government's do's and donts.

"All the eight points listed in the government's circular insists that pair of buffaloes racing down the 100-metre slushy track should not be subjected to any cruelty," Shetty said.

In the previous season (2018-19), 18 Kambalas had been organised. The final Kambala held in Paivalike in Kasargod district had ended with the Superintendent of Police (SP) filing case on the organisers based on a complaint from PETA.

"This time there are 20 Kambalas including two traditional (not competitive) Kambalas," he added.

The district administration is also likely to organise Pilikula Kambala in February 2020.

All Kambalas, the only entertainment for villagers, will start around 8 am. The race actually peaks during the afternoon. Kambala goes on for 24 to 36 hours.

100 buffalo pairs to take part in 'Sathya Dharma' Kambala

A 100 pairs of buffaloes are expected to participate in 'Sathya Dharma' Kambala scheduled to be held at Kakkapadavu Myra Bharkajaalu, near Uli village, in Bantwal taluk on November 30, Saturday.

The traditional buffalo race in slush muddy waters, initiated seven years ago, is being organised for the first time by a rural youth organisation Shri Ramanjeya Gelayara Balaga, Kambala committee President Ravi Kakkapadavu Subrahmanya said.

The Kambala is being organised in six categories - 'Kane Halage' (Rounded wooden plank is tied to buffaloes), 'Adda Halage' (Horizontal wooden plank tied to buffaloes), 'Hagga Hiriya', 'Hagga Kiriya', 'Negilu Hiriya' and 'Negilu Kiriya'.

''While most of the Kambalas are named after mythological warriors and names of villages, the committee decided to name the Kambala in Kakkepadavu as 'Sathya (meaning Truth), Dharma (meaning righteousness)' in order to have an identity of its own,'' sources added.

The Kambala will be witnessed by Bantwal MLA Ulepady Rajesh Nayak (who is also honorary president of Kambala committee) and the entire cast of Kannada film, 'Kanasu Maratakke ide'.

District In-charge Minister Kota Srinivas Poojary, Tourism Minister C T Ravi, BJP President Nalin Kumar Kateel and entrepreneur Ashwath Hegde are expected to present the prizes to winners of the Kambala.
Courtesy:Deccan Herald


Write Comment
|

E-Mail
|
Facebook
|

Twitter
|

Print