'Mother Teresa Vichara Vedike' symposium creates positive impact on DK youth
Mangalore Today News Network
Mangaluru, Nov 07, 2017: Speaking at the DK district-level symposium on St Mother Teresa, organized by 'Mother Teresa Vichara Vedike', Mangaluru, at the Town Hall on November 6, Monday, forenoon; Prof Purushotham Bilimale, Head, Kannada department, Jawaharlal Nehru University (JNU), New Delhi, said that for the many ills of the post Globalization era and the super modern times, where morals have taken a back seat, Mother Teresa gives a solution to all of this - and that is, open up the universe with love and humanity, for durable harmony.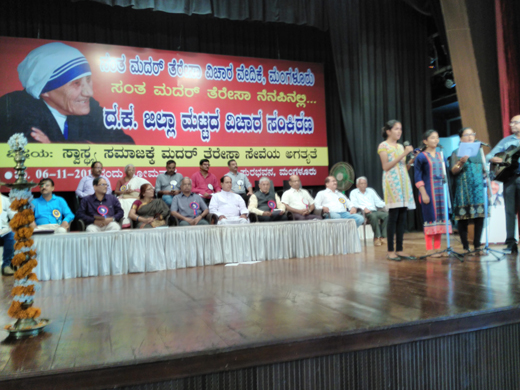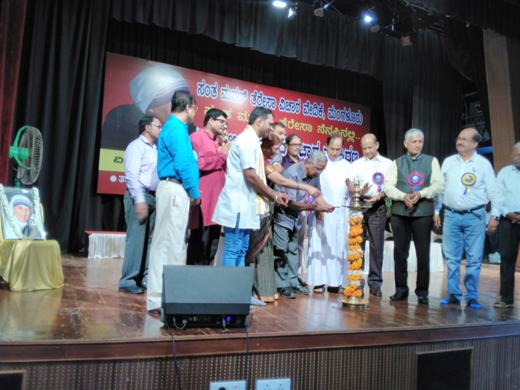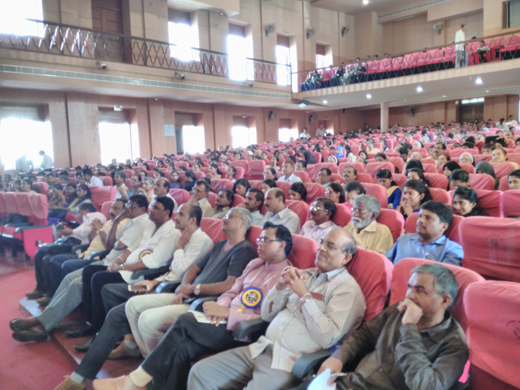 In chaste Kannada he spoke to a rapt audience on the reasons of why St.Mother Teresa's example can bring about truth and harmony specially from leaders, experts and service delivery officials along with people. The scholar gave the example of a modern old age home, where with money power abundant all facilities are created for the residents (and even more for the management and care givers), yet the eyes of the aged and sick are anxiously turned to the main door - the reason is they are not getting the love they need. His experience while recovering from a kidney transplant in Delhi in the ICU, a Keralite nurse took care of him and when he appreciated her care, she only said see how Mother Teresa has performed, should we not try to do like her; proving that the motivation of the Mother, is deep and progressing.

K Neela, progressive thinker and litterateur, in a beutiful form of Kannda inpressed the audience with her paper on Mother Teresa, she said, "Mother Teresa has created a space of love in depth, for all without any tags of religion, caste or class. But, St Teresa showed proved real mothering and now the world is at cross roads and needs more like Mother Teresa. Youth should know about her and her services to suffering humans. The work is not as a pain reliever, but as a medication to cure the wounds. The St Mother use even the bricks that were hurled at her to build for the suffering. It is necessary now to ACT - i.e: What can you DO, How will you do and act?

Dr Alwyn D'Sa, of St Aloysius College and Dr Ismail, of Badriya College were the moderators of the sessions and gave a glowing response to the contents of the two main speakers of the symposium.

Roy Castelino, former president, Karnataka Konkani Sahitya Academy presided over the programme.

Sunil Kumar Bajal, vice-president of Mother Teresa Vichara Vedike delivered the introductory speech.

Denis Moras Prabhu, vicar general of Mangaluru diocese, Joseph Crasta, director Snehalaya rehabilitation center, Corrine Rasquinha, director, White Doves, Muneer Katipalla, secretory, DYFI state committee, and many others were present. The cross section of college students, and admireres of the St.Mother from all walks of life gave a thrilling productiveness to the symposium, plans are a foot took this effort forward in true practice to bring harmony and humanity all around.

Write Comment
|

E-Mail
|
Facebook
|

Twitter
|

Print