'Maha Chetana' revised version of yakshagana prasanga presented
Mangalore Today News Network
Mangaluru, May 28, 2017: A revised version of the first yakshagana prasanga (episode) on Jesus Christ — Maha Chetana Yesukrista Mahatme — was released at a function at Don Bosco Hall, on May 27, Saturday afternoon.

Rev Dr. Aloysius Paul D'Souza, Bishop of Mangaluru, who released the prasanga written by Muliya Keshavayya, said that fine arts have the capacity to unite people. Art forms, including Yakshagana, were beyond the boundaries of religion, caste and language.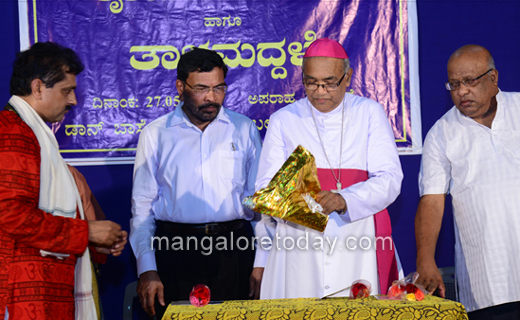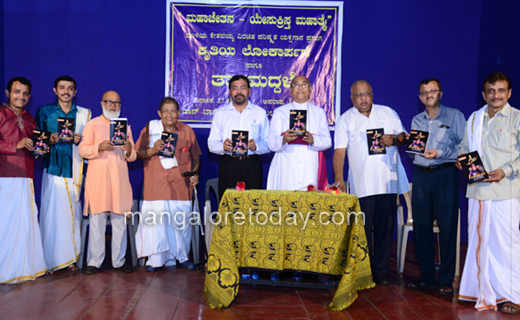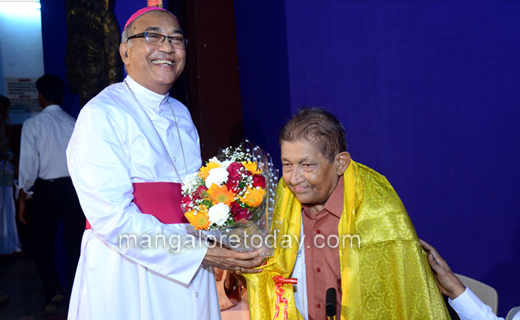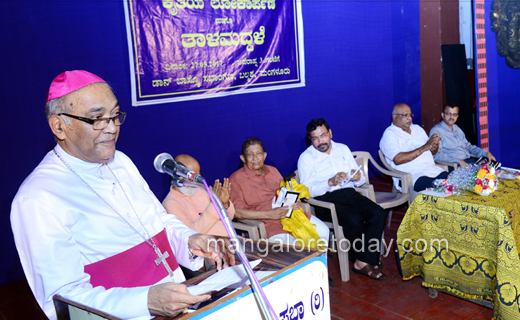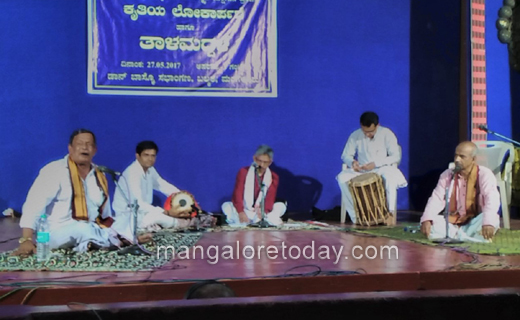 Honey Cabral, secretary, Karnataka Christian Education Society, said that when the prasanga was first released in 1976 there was curiosity among people how the character of Satan would be showcased. Arts develop according to society's needs and not whims of people and everything is acceptable. When the first show was staged in Shanti Nilaya all appreciated it.

Anandarama Upadhya, a critic and Yakshagana expert, said that the prasanga had all the 'rasas'. Yakshagana literature was yet to receive the recognition it deserved.

Raghu Muliya, son of Keshavayya, said that the new version has commentaries for 200 songs in the original script.

Dr. Gowda of Mangalore University, explained the niceties of yakshagana as applied to unconventional subjects and lauded the developer of this episode. He said the people with narrow out look find fault without proper knowledge. He also stated that The story of Christ from the Bible had all the elments of a good yakshagana presentation and it has proved so often. The episode commences with the biblical version of the battle between the good angels Michael and Gabriel and the bad angel Luciefer. The story of Herod and sermon on the mount and such parables presented all the elements of the art such as humour, preaching the good life and also gave ample scope to point to the problems faced by modern society, which the author has skillfully untilised to put together a lively Yakshagana Talamaddale.

Author and Master Muliya Keshavayya was felicitated by several. rev Mark Valder a senior catholic priest of Mangaluru and an author was present and spoke on the goodness of the book and 'prasanga'. It was surprising to note that there was poor response from Christians for the event. there was some criticism by some Hindutva groups that Yakshagana was being used to propagate Christianity which was untenable. Prominent proponents of the art gave a full presentation which got great appreciation.

The script was translated into English and German during 1977-78, and has been presented at various venues over more than 30 years and has been well accepted all over.

Write Comment
|

E-Mail
|
Facebook
|

Twitter
|

Print