'Kambala' stopped in Kasargod, following a complaint by PETA
Mangalore Today News Network
Kasargod, Dec 14, 2018 : When People for the Ethical Treatment of Animals (PETA) India learned that a kambala (buffalo racing) event was scheduled to take place on 15 December in Paivalike village, Kasaragod district, PETA India's emergency response team sprang into action and worked with the police to prevent the illegal spectacle from taking place. The District Police Chief confirmed that notices were served to the organisers to prevent them from conducting the event.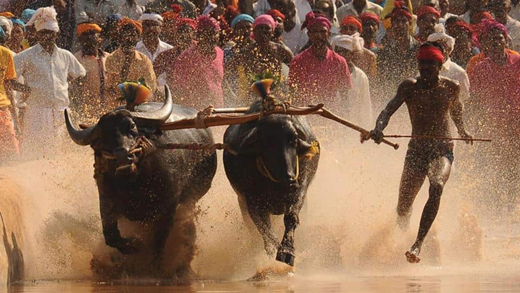 "The Supreme Court and the High Court of Kerala have made clear that bull races are illegal, and there's no place in civilised society for whipping bulls and twisting and biting their tails, as is common at such events, to force them to run," says PETA India Lead Emergency Response Coordinator Meet Ashar. "Buffalo bulls used for work already have a hard life without the additional torment of being forced to race. We commend the Kasaragod District Police Chief for showing that cruelty to animals will not be tolerated."

PETA India – whose motto reads, in part, that "animals are not ours to use for entertainment or abuse in any other way" – notes that, from November 2017 to February 2018, PETA India documented routine cruelty to bulls used in eight kambala events organised in Karnataka under the regulation of the state law. Reluctant buffalo bulls were pushed, pulled by nose ropes, dragged to the starting point, and rampantly beaten using wooden sticks throughout the races. Some also had marks on their bodies from previous beatings. Many who finished the races were frothing at the mouth, salivating heavily, and displaying increased respiration rates.


On 5 September 2014, the High Court of Kerala passed an order stating that it is bound by the observations and views of the 2014 Supreme Court judgment that banned bull races across the country. The High Court pointed out that the Supreme Court has categorically stated that bulls are not anatomically suited to racing. Last week, following a petition filed by PETA India that seeks to overturn The Prevention of Cruelty to Animals (Karnataka Second Amendment) Act, 2017, which allows kambala and other bull and bullock cart races in the state, the Supreme Court of India issued notices to the state government of Karnataka, the Animal Welfare Board of India, and the Ministry of Environment, Forest and Climate Change. The court also tagged this matter with the ongoing cases in which PETA India has challenged similar state laws that allow the use of bulls for jallikattu in Tamil Nadu and bullock cart races in Maharashtra.


Write Comment
|

E-Mail
|
Facebook
|

Twitter
|

Print