'Ugrana' for Paryaya festival inaugurated by Palimar seer
Mangalore Today News Network
Udupi, Jan 06 2018: Vidyadheesha Tirtha Swami of Palimar Mutt will ascend the 'Paryaya Peetha' also known as the 'Sarvajna Peetha' at the 800-year-old Sri Krishna Mutt/Temple here on January 18. It will be his second Paryaya.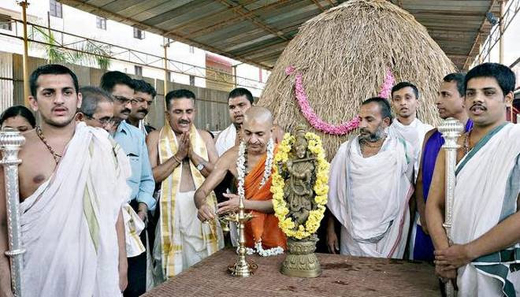 A

'kanaja' (temporary granary or barn of cylindrical structure made of dried hay) was constructed at the 'ugrana' or store complex.

Devotees from different parts of Udupi and Dakshina Kannada districts make offerings of foodgrains and vegetables, which is called 'Horekanike'. These offerings are usually brought in a procession from Jodu Katte to the ugrana near the Rajangana parking space. A basket of coconuts and a bag of rice were kept on a table in front of the kanaja during the inauguration ceremony. Vidyadheesha Tirtha Swami inaugurated the 'ugrana' by lighting the lamp amid the chanting of the mantras.

The Palimar seer said the offering of foodgrains and vegetables made by the devotees would be kept at the ugrana. The ugrana should get filled. The foodgrains and vegetables at the ugrana will be used for preparing meals for the devotees visiting the mutt/temple.

He said they had to be protected and not get wasted. Nearly 50,000 devotees are expected to have meals during the Paryaya festival here, the seer said.

The ugrana is 150 feet long and 40 feet wide and has 13 divisions or partitions to store the foodgrains and vegetables.

Shivanand, agricultural officer, Sri Kshetra Dharmasthala Rural Development Project, who is in charge of the ugrana, said 50 volunteers would remain stationed to receive the foodgrains and vegetables daily.

There are separate partitions to store rice murras, rice, 'gulla,' plantains, de-husked coconuts, coconuts, tender coconuts, oil packets, and vegetables. The Horekanike is expected till January 18, he said.

Matti Laxminaryana Rao, general secretary of Paryaya Reception Committee, said though foodgrains had been received from Karkala side, there was no Horekanike procession on Jan 5, Friday. The Horekanike foodgrains and vegetables will be brought from Saturday, Jan 6.

Write Comment
|

E-Mail
|
Facebook
|

Twitter
|

Print