'Selfie with Signature', an anti-drug abuse campaign launched
Mangalore Today News Network
Mangaluru, Aug 06, 2019 : A month-long anti-drug abuse 'Selfie with Signature Campaign' has been organised by Udupi district police in association with Rotary Club of Udupi Royal and the campaign was launched at Canara Mall Manipal near here.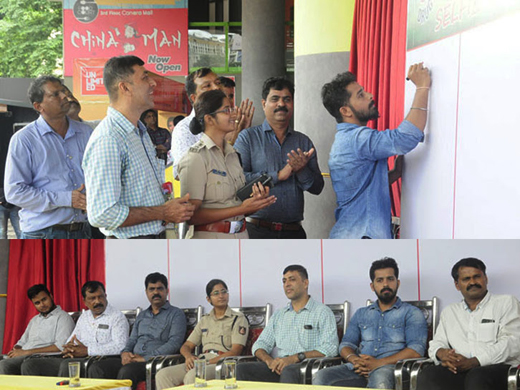 Speaking on the occasion, district superintendent of police, Nisha James, said "India is a young country. But unfortunately youths are falling victims of drugs or substance abuse. As per the report, significant percentage of young generation is addicted to drugs in the state of Punjab and other places."

"Youths are involving themselves in drug dealing. For example a student came to the city for study purpose, all the way from West Bengal, in 2015. After four years the police department came to know that he is an active drug peddler in the city and was arrested. Thought is needed on how a student got into illegal activities in just four years?" she reflected.

"If a person tries the drug once at a party or in a group of friends, when the friends force him or her to drink, it may provoke the person to do it again and again. As a result of this, some people also get into the business of dealing in drugs to earn more money. So, it is everyone's responsibility to protect the youngsters and take care of them," said the SP.

In his inaugural address, coastal actor of Tulu and Kannada films, Prithvi Ambar said, "Students or youngsters may begin doing drugs out of curiosity for the first time. In some cases, the circumstances, tension, and types of friends are the reasons for a person to become an addict. In the beginning, the person will enjoy and later the drug will start to rule over him or her. This will lead not only to physical ailments but will cause loss of mental balance. The addict will engage him or her in drug peddling, or illegal activities to get more money to buy the drug. I have seen many people, who have lost their career and life, after they became victims of drug abuse. Hence, students should keep themselves away from the addictions."

Dr Ravi Raj Bhandary who was present said, "One who is addicted to any kind of opium or drugs, will develop fear psychosis and sometimes they will end their lives by committing suicide. Most of the crimes in the society are connected to drug addiction. Today's youngsters are so brilliant, but once they enter the bad stream, they will become wrecks. They will start thinking negatively."

Youths are the asset of the nation. So, it is our responsibility to protect them from bad habits. Only then, a nation can reach great heights. Let us protect our young generation for the better future of the nation.

Write Comment
|

E-Mail
|
Facebook
|

Twitter
|

Print