'Ideological forces in power a threat to democracy':Teesta Setalvad
Mangalore Today News Network
Mangaluru, Oct 26, 2017 : Civil Rights activist and journalist Teesta Setalvad condemned the act of psychological warfare waged by ideological forces with an intention to create aggression and hatred among people belonging to different communities.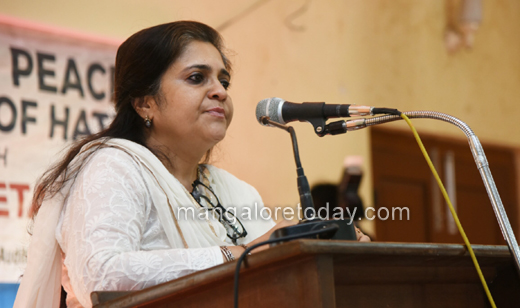 She was delivering a lecture on 'Talking Peace in Times of Hate' organised by Samarasa, Mangaluru, at Bishop Jathanna Auditorium at KTC, Balmatta.

Terming the development where ideological forces are adorning constitutional positions as a threat to democracy, she raised concern over the propagation of the idea of 'Hindu Rashtra'.

Real patriotism

Patriotism is portrayed in wrong terms as associated with a particular religion. It is false. Real patriotism should be attributed to the fight against poverty, unemployment and other burning problems within the country. It is high time that the social and constitutional thoughts are strengthened in public space, she said and called upon the citizens to be the warriors of constitutional values.

Teesta noted that though slowly, but constantly, voices are being raised against the psychological warfare. The sub-minorities like Dalits, Adivasis and women should build alliances. Their fights should be connected with each other to be projected at the national level, she felt.

Research scholarship

Pointing to the fact that 25,000 scholarships to the research scholars have been discontinued in universities, such as Jawaharlal Nehru University, Setalvad questioned the University Grants Commission's agenda behind preventing students belonging to less privileged families, from conducting researches on Social Sciences and Human Rights.

Holding the Central government responsible for curtailing the access of citizens to right-based legislation and political independence, the civil rights activist charged that the government has been transferring public resources to capitalists.

"The Central government has brought an amendment to the Land Acquisition Act which snatches the authority of Gram Sabha to decide on whether the land should be used for industrial purposes or not. The provision for fair compensation was also scrapped off under the amendment. Ironically, the BJP-ruled states passed their own state land laws, repelling the ordinance. Efforts are being done to hand over AIR India and Indian Railways, only to satisfy 'crony capitalists'," she charged.

At an interaction, she lamented that the fear of imbalance of population is being spread among people through the medium of social networking sites, by posting inflated news.

She also opposed the act of fostering defamation cases against journalists and slamming criminal cases against Dalits and forest dwellers.


Gauri Lankesh issue

Condemning the murder of journalist Gowri Lankesh, Setalvad said the silence caused by fear and aggression needs to be broken.

Every citizen has a right to point at the crisis. But the voices, which speak on the constitutional rights, are being strangulated by imposing upon the ideologies which subscribe to aggression and violence. If hate mongers have a right to speak, why not us? she asked. A minute's silence was observed to pay tribute to Gauri Lankesh.



courtesy:DHNS

Write Comment
|

E-Mail
|
Facebook
|

Twitter
|

Print