'Homestay' attack: women's panel report evokes anger, shock
Mangalore Today News Network
Mangalore, Aug 10, 2012 : An observation of the Karnataka State Commission for Women in its report to the government suggesting presence of use of drugs or ganja — a line of argument taken by the Hindutva activists — has surprised the police and angered social activists and victims of the July 28 'homestay' attack.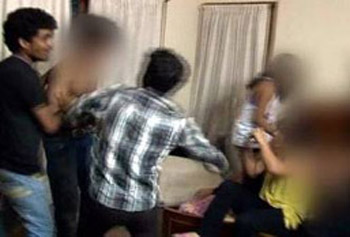 The commission Chairperson C. Manjula claimed in that she had learnt from the media reports that "drug mafia was active and misguiding college girls and boys" and recommended a separate cell to deal with it. She also sought a probe to find out whether attempts had been made to misguide those celebrating birthday at the 'homestay'.

Police Commissioner Seemant Kumar Singh was reluctant to comment on the Ms. Manjula's observation, but clarified that the police had not found any drugs on the 'homestay' premises on July 28 when young men and women there were attacked allegedly by Hindutva activists in the name of protecting "Indian culture". The police had also got a report from the Deputy Excise Commissioner about the liquor bottles found at the party. All the victims of the attack had been subjected to medical test on night of July 28, he added. Yet, the women's commission report has stated that the police should have made the victims undergo medical tests.

Angry reactions

The attack victims and civil rights activists have flayed the observations made by commission Chairperson C. Manjula about ganja.

Gurudutt Kamat, a victim, said he was shocked that Ms. Manjula had spoken about use of ganja at the party held at Morning Mist Home Stay on the outskirts of Mangalore. "Soon after the attack on us, senior police officials, including Mangalore Police Commissioner, thoroughly checked the premises and had not found any drugs. It was a birthday party," he said.

Mr. Kamat said the commission was ignoring facts. "This just looks to be a way to shatter us so that we back off from fighting against the attack. But we will continue our fight for our rights. We cannot allow such an attack once again in the city," he said.

Activist K. Phaniraj said Ms. Manjula had tried to wash her hands of the attack. The report clearly shows the chairperson allegiance, "which is obviously not to the Constitution." The commission has transgressed the constitutional mandate.

Mr. Phaniraj questioned Ms. Manjula's observation questioning the morality of partygoers. "The chairperson is not a moral preacher." Coming down hard on Ms. Manjula's observation seeking transfer of police official as his daughter was in the party, "She has no right to make such an observation. The officer concerned should actually file a case against her," he said, adding that such a report cannot be accepted.

Activist Vidya Dinker said the commission Chairperson has prepared the report with preconceived notions about the party. "Her observations about drugs are strange as the police report does not state anything about it," she said. Medical report would have shown if they had consumed drugs.

Courtesy: The Hindu (Raghava M)

Write Comment
|

E-Mail
|
Facebook
|

Twitter
|

Print