"Don't panic over Swine flu" says DK DC
Mangalore Today News Network
Mangaluru, Feb 14, 2015: Speaking at a meeting Feb 13, Friday, DK DC A B Ibrahim asked People of Dakshina Kannada not to panic about H1N1. The people should consult a doctor when they develop symptoms.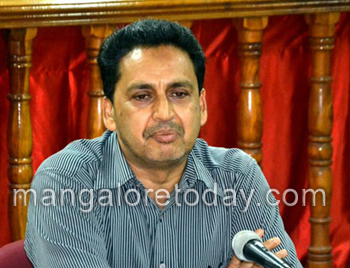 He said there were adequate quantity of medicines with the government hospitals. District Health Officer Dr Ramakrishna Rao said the district has a stock of 2,000 tablets. All the taluk hospitals have been given 100 tablets each. Five beds in taluk hospitals have been isolated to treat the patients suffering from H1N1. Though two death of persons diagnosed with H1N1 influenza reported in Mangalore, the two were not the natives of Dakshina Kannada.

While the first death was of a person from Gujarat, another was of a person from Kasaragod. The DHO said since January they had taken throat swabs of 37 persons and were tested at the laboratory in Manipal. Of these, seven persons, including the two deceased persons, have been found positive for H1N1. Out of five persons, one is from Dakshina Kannada, two from Udupi and two are from Kodagu districts.

Exhorting people not to panic over H1N1, the DHO said that the attack is similar to any other flu and spreads through coughing and sneezing. People should use kerchief while sneezing and coughing. If fever, body ache and coughing do not subside within two days of medication, people should approach the nearest hospital for a check.

He said that if the private medical practitioners inform the department of health and family welfare of the suspect patients, then the department will make an arrangement for the throat swab test and supply free tamiflu tablets. It is a scheduled drug and is available only in licensed drug and medical stores. In Mangaluru, it is available in Ganesh Medicals, Medicare centre and Fr Muller Hospital medical store. It can not be purchased without valid prescriptions from the doctor.

The DHO said that there is a need to create awareness on H1N1 in schools and anganwadi centres. District Surveillance Officer Dr Rajesh said that the district had shortage of tamiflu syrup. "However, we have received the syrup as well. As of now, the district did not get any patient who is below five years old."


Patients infected with influenza A H1N1 virus, with mild fever, cough, sore throat, should confine themselves at home and avoid mixing up with public and high risk members in the family. Those suffering from breathlessness, chest pain, drowsiness, fall in blood pressure, sputum mixed with blood, bluish discoloration of nails and irritability among small children, refusal to accept feed will come under H1N1 Influenza C category which require testing and immediate hospitalisation.

Precautionary measures : * Use kerchief or tissue paper while sneezing and coughing; * Wash hands with soap every now and then; * Maintain personal cleanliness, and wear clean clothes after bath; * Do not go near the person suffering from suspected symptoms; * Do not shake hands with the suspected * Do not touch one's eyes, nose and mouth.
Udupi reports H1N1 cases : As many as nine H1N1 cases are reported in Udupi District since January.Briefing reporters, District Health Officer Surendra Chimbalakar said out of 52 suspects, nine have been tested positive. Of the total nine, two are in ICU, while another four are on treatment owing to complications and secondary infections. The throat swab, urine sample and blood sample were collected from suspects. An interdepartmental coordination committee is set up which works on sensitisation. Besides door to door survey is being conducted and pamphlets carrying awareness messages are being distributed. In addition, all schools in the district have been directed to refer students who suffer respiratory illness to hospitals. Precautionary measures have been taken in schools. Kasturba Hospital in Manipal has earmarked six ICU beds and another 10 special beds to treat H1N1 patients. While 10 beds are reserved in district hospital and five each in all taluk hospitals, he added.

Write Comment
|

E-Mail
|
Facebook
|

Twitter
|

Print