'Catch them young is also the mantra for make in India campaign' V.K. Thalithaya
Mangalore Today News Network
Mangaluru, Oct 30 2015: "The success of 'Make in India' campaign is preparing the youth in our schools and colleges to the global challenges posed during 2020. Even swatch Bharath campaign is very essential for emerging new global citizens from India ", opined Mr V K Thalithaya, former senior vice-president, MRPL, Mangaluru. He was addressing the delegates of UGC sponsored National Seminar on 'Issues and Challenges in Global workplace' at Besant Women's College today.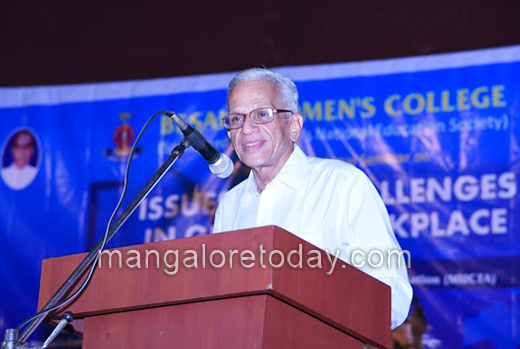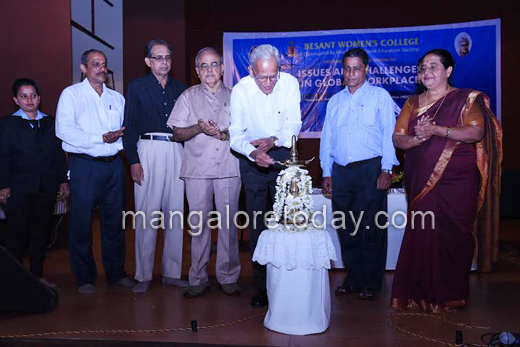 The barriers in economic commerce and technological life of the citizens have broken and the world has shrunk, the impact of which is felt in day to day life. The global market has experienced change. Production of controlled and standardized products in one part of the world for the use of citizens world over, production of goods of global standard to suit the local needs and production of goods in different parts with the same global standard that are marketed globally, are some of the features of global market.

To keep abreast with global standard and competition not only the company but each worker must have a consciousness.

An understanding that goods and services must sustain and stand in the global market must be possessed by each individual now. He said, keep learning new skills, use of diversity for creativity and following ethics in the global workplace is the need of the hour. Understanding global market, supply chain reliability and competitive advantage are inevitable for the companies providing goods or services now.

Each company besides facing many challenges prepares the workers for global work atmosphere and brings in the habit of global quality in consumers.

Prof. Sreepada, head of department of commerce, SMS College, Brahmawar who was the guest of honour said, a global citizen must know one's own needs very well when informed citizens demand good standards at the work place, the companies provide them. Kudpi Jagadish Shenoy, President, Women's National Education Society, in his presidential speech said, the HR managers play a key role in managing the individual cultures and behaviours to help companies to make profit in a global economic environment.

Seminar Co-ordinator Ms. Sangeetha Nayak introduced the topic of the seminar. Dr. Sulochana Narayan, Principal, welcomed the gathering, Dr. Praveen Kumar K.C., Co-ordinator and HoD, Dept. of Commerce proposed the vote of thanks, Prof. Preetha Bhandary compeered. Sri. K. Devananda Pai, College Correspondent was on the stage.

In the technical session Prof. Mallikarjunappa, Chairman, MBA Dept. Mangalore University, spoke on the Rise of BRICS economies : The new phase of Globalization, Dr. Punnakal Vandana Mukundan, Sri Narayana College, Kannur spoke on Cultural Globalization and K. Gopal, HR Head, ABB India Ltd, Bangalore spoke on Global workplace by 2020. Dr. Norbert Lobo, Mr. Mahesh Nayak, Dr. Narayana Kayarkatte chaired the sessions. Delegates presented papers on related topics.

Sri. Shyam Sundar Kamath, Secretary, WNES, was the guest of honour for the valedictory ceremony Dr. Sulochana Narayan, Principal, presided over the ceremony.


Write Comment
|

E-Mail
|
Facebook
|

Twitter
|

Print