World's oldest parents are in intensive care just one week after giving birth to twins
Mangalore Today News Network
Andra Pradesh, Sep 16, 2019 : The world's oldest parents are in intensive care just one week after the new mother gave birth to twin girls after 57 years in a childless marriage, Yahoo reported.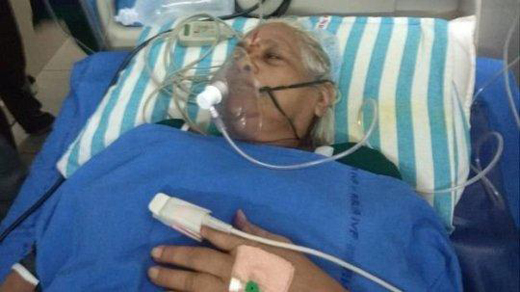 Indian couple Erramatti Mangayamma, 74, and her husband Raja Rao, 78, successfully delivered two healthy babies on September 5th.

The pair tried to conceive throughout their marriage until they successfully underwent IVF treatment from Ahalya Hospital last year.

"Due to the grace of God and doctors, I am the proud father of two baby girls," Mr Rao announced, hours after his wife, 74, was hailed as the world's oldest new mother following IVF treatment.

"We are the happiest couple on earth today," he said.

But just the day after Mr Rao collapsed from a heart attack and was taken into intensive care in the southern state of Andhra Pradesh.

Ms Mangayamma has also remained in intensive care since the birth.

The twins are said to be doing well but have not yet been named and are staying with the couple's relatives.

Doctors were unsure whether she would carry to term but defying the odds, she delivered two healthy babies through a cesarean section, each weighing about 4Ibs.

Doctors have declined to provide details on their current condition but Ms Mangayamma's niece, Lakshmi Bhia, told the Times that both are stable

It is unclear why Ms Mangayammais in intensive care but health experts say that there are a lot of risks for elderly women giving birth.