Will the Citizenship Amendment Bill pass the test in Rajya Sabha
Manglore Today News Network
New Delhi, Dec 10, 2019: With the Citizenship (Amendment) Bill being passed in the Lok Sabha at midnight on Tuesday, 10 December, with 311 members favouring it and 80 voting against it, the next test is now the Rajya Sabha, which would be a bigger challenge. Compared to the Lok Sabha, where the NDA has a comfortable majority, the numbers are more closely matched in Upper House as to Yahoo.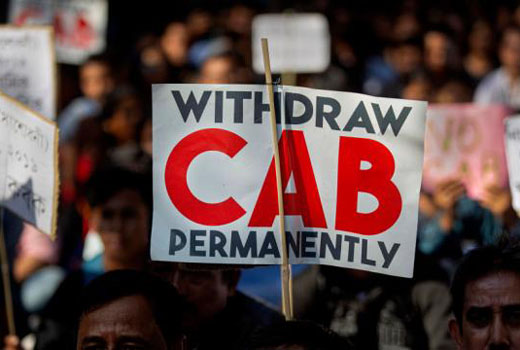 Based on the positions taken by various parties in the Lok Sabha, it appears that the government might have a narrow lead in the Upper House. With five seats lying vacant, the strength of the House is 240. The halfway mark is 120.

Parties Supporting the Citizenship Bill

These are the parties that are likely to support the Bill in the Rajya Sabha, with their respective strength in the House:

NDA parties: BJP (83), AIADMK (11), JD-U (6), SAD (3), AGP (1), BPF (1), LJP (1), PMK (1), RPI (1), Nominated (3), Independents (4). Total: 115

The four independents who have been listed along with the NDA are Sanjay Kakade, Primal Nathan, Amar Singh and Dr Subhash Chandra. The three nominated MPs listed with the NDA are Swapan Dasgupta, Mary Kom and Narendra Jadhav.

Eight other nominated MPs are BJP members and have been included within the BJP's tally.

Then there are non-NDA parties that supported the Bill: BJD (7), YSRCP (2), Shiv Sena (3). Total: 12

Therefore, if parties don't change the stand taken in the Lok Sabha, the NDA has a few MPs more than the halfway mark in the Rajya Sabha.
Parties Opposing the Bill

UPA: Congress (46), DMK (5), IUML (1), Kerala Congress (1), NCP (4), RJD (4), MDMK (1), Nominated (1). Total: 63

Non-UPA parties opposing the Bill: TMC (13), SP (9), TRS (6), CPM (5), CPI (1), BSP (4), AAP (3), PDP (2). Total: 43

Therefore parties opposing the Bill have 106 MPs in the Rajya Sabha. In addition to this, two Independent MPs – MP Veerendra Kumar and Ritabrata Banerjee – are also likely to oppose the Bill. This takes the number of those opposing the Bill to 108, which is 12 less than the halfway mark.

It appears that the parties supporting the Bill have a narrow lead of around a dozen seats. This equation is unlikely to change unless one or two of the NDA partners or other parties like BJD and YSRCP change their stand.

This has happened in the past, with AIADMK and JD(U) not backing the BJP on the Triple Talaq Bill.

But unless this happens, the Bill might pass in the Rajya Sabha, but with a slender majority.