Video of Lucknow woman thrashing man goes viral, FIR registered
Mangalore Today News Network / Yahoo
Lucknow, Aug 03, 2021: An FIR has been lodged against a woman, who, in a viral video, was seen thrashing a man at a crossing, as bystanders and traffic police looked on. Towards the end of the video, when another man intervenes, the woman can be seen hitting him as well.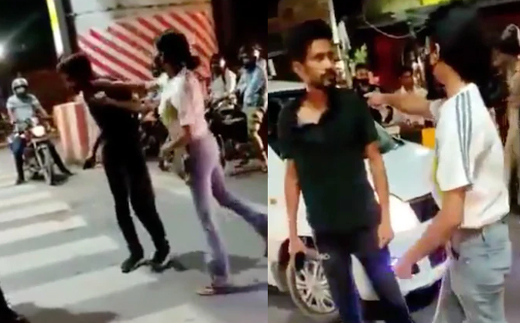 In a CCTV footage of what is believed to be of the same incident, the woman can be seen crossing the road amid heavy traffic to go up to the man's car and hitting him when he finally gets out of it.
WHEN AND WHERE DID THE INCIDENT TAKE PLACE?

As per the police, the incident took place at Lucknow's Awadh Chauraha on 30 July.

Swatantra Kumar Singh, ACP of Lucknow's Krishnanagar has informed that the police brought the woman as well as the man to the police station, following the incident.

WHAT ELSE IS THE POLICE SAYING?

Narayan has, on her part, alleged that Ali and others in his car tried to mow her down. She also claimed that the men in the car abused her and tried to beat her up.

Meanwhile, Singh has stated that a probe was originally initiated before an FIR was registered and preventive action was taken under sections 107 and 116 of the Criminal Procedure Code against the woman, and under section 151 against the men in the car.

The FIR was lodged on the complaint of Ali after the video made it's way to the internet.