Three militants, two soldiers killed in 16-hour long Shopian encounter
www.mangaloretoday.com
Srinagar, Aug 13 2017 (DHNS): Three local Hizb-ul-Mujahideen militants and two army men were killed in an overnight encounter in south Kashmir's Shopian district on Sunday. Three others, including a captain, were also injured in the 16-hour-long fierce gun battle.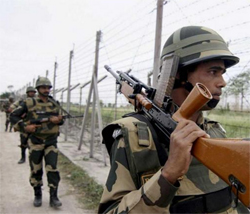 Director General of Police of Jammu & Kashmir SP Vaid, tweeted, "Today morning 3 Terrorists Eliminated at Zainpora Shopian. Well done boys!" Two army men, identified as sepoys Ilayaraja P and Gowai Sumedh Waman, were killed and three others injured in the initial phase of the encounter on Saturday night.

Sources said based on a specific input about the presence of a group of five heavily armed Hizbul militants, including its Kashmir chief Yasin Itoo, alias Mehmood Ghaznavi, in Zainpora area of Shopian, 56 km from here, Army's 3 Rashtriya Rifle and special operations group (SOG) of police started a search and cordon operation on Thursday evening at around 7 pm.

"As the security forces were engaged in house-to-house searches, the hiding militants in a bid to break the cordon fired upon them, triggering off a fierce encounter. In the initial firing five army men, including a Captain, sustained injures," they said and added the injured were shifted to 92-Base Hospital in Srinagar, where two of them succumbed.

Reports said as the encounter was going on, locals rushed out of their homes to pelt stones on the forces to help the holed up militants to escape. The police responded by firing tear gas shells and pellets, in which several protesters were injured.

Sources said the operation was halted for the night but the forces maintained cordon of the area to stop the militants from fleeing. "The gunfight resumed with the first light of the morning and three militants were killed after forces blasted off four houses where they were hiding. Two militants, one of them believed to be Hizbul chief Ghaznavi, managed to escape from the encounter spot," they revealed.

The slain militants were identified as Umar Majid Sheikh, Adil Malik and Irfan ul Sheikh, all resident of Shopian. Three Ak-47 rifles were recovered from their possession, police said. In wake of the gunfight, authorities blocked internet services in Shopian district and other sensitive parts of south Kashmir.

In a separate incident, militants opened fire after police and army started a cordon and search operation at Wahab Parray Mohalla in Hajin area of north Kashmir's Bandipora district. A police spokesman said that the firing wounded two cops who were referred to hospital. The CASO was going on in the area to flush out the militants, he added.

135 militants, including top commanders like Abu Dujana, Sabzar Bhat, Bashir Lashkari and Junaid Mattoo, have been killed so far this year in the Valley, which is highest in the last eight years. The security forces are going after militants as part of operation "hunt down" and on the basis of a "hit list" of militants.
Meanwhile, a civilian injured in an explosion in Dalgate area of Srinagar on Saturday night succumbed on Sunday at SK Institute of Medical Sciences (SKIMS) hospital.