Sena, BJP MPs urge Gowda to roll back rail fare hike
Mangalore Today News Network
New Delhi, June 24, 2014: There is a growing dissent within the NDA on the steep hike in rail fares. On Tuesday, Shiv Sena and BJP MPs from Maharashtra met Railway Minister Sadananda Gowda in New Delhi.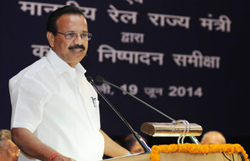 After the meeting, BJP MP Kirit Somaiya said, "Railway minister assured us that feelings of Mumbaikars will be considered."

There has been outcry over the fare hike, mostly from passengers using the suburban trains in Mumbai.

Shiv Sena chief Uddhav Thackeray had on Monday in party mouthpiece said people felt run over by a train due to the fare hike.

He said if the same hike had been taken up by the Congress, the opposition would have bombarded it with criticisms and abuses.

A news report said Thackeray also called up Finance Minister Arun Jaitley to defer the fare hike.

Rail blockade
The Maharashtra unit of the Congress is set to organise a rail blockade across the state on Wednesday.

"We demand a roll-back of the fares immediately, failing which we will launch a rail-roko (block trains) agitation across Maharashtra," state Congress president Manikrao Thakre said on Monday after a meeting with party office-bearers.

The Wednesday agitation will see rail blockades at major railway stations in Mumbai, Nagpur, Pune, Aurangabad and other parts of the state.

Resolution against fare hike On Monday, a resolution seeking immediate roll-back of the "highest ever" hike in railway fares was adopted by the West Bengal assembly.

"The central government recently has created an unprecedented situation by increasing freight rates and passenger fares by 6.5 percent and 14.2 percent respectively. Due to this, the prices of essential commodities will increase, making the lives of crores of Indians miserable," said the resolution moved by state Parliamentary Affairs Minister Partha Chatterjee.

Trinamool has announced a week-long agitation across the state against the hike. The CPI-M-led Left Front also held protest demonstrations in a large number of railway stations of all the 19 districts on Saturday.
The NDA government had on Friday raised the railway passenger fares by 14.2 percent in all classes and freight rates by 6.5 percent effective from June 25, a decision strongly slammed by opposition parties who termed the move anti-poor and one that would lead to inflation.

The new passenger fares and freight rates aimed at mobilising resources for the cash-strapped Indian Railways come just days after Prime Minister Narendra Modi warned countrymen to get ready for some "bitter medicine" needed to revive the economy and ahead of the full railway budget next month.

The railway ministry said the revision of rates was done as part of the interim budget presented by the previous UPA-II government, but not implemented because of the 10-phase Lok Sabha elections spread over April-May.