SOS Call Received From Kerala Nurses in Iraq: State Govt.
Mangaloretoday/ NDTV
New Delhi, June 16: Amid escalating violence in Iraq, 44 Indian nurses working there have been asked to indicate in writing whether they want government assistance in returning home. Most of them reportedly say they would prefer to stay on, said sources in the Ministry for External Affairs.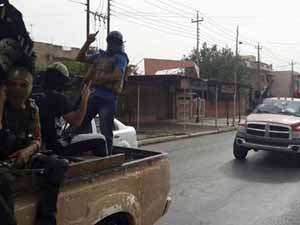 But the Kerala government says that it received an SOS call from a group of nurses on Friday after which Chief Minister Oomen Chandy called Foreign Affairs Minister Sushma Swaraj to brief her.

Sources in Mr Chandy's government say that the nurses who phoned for help want to return to Kerala but are worried about how they will be escorted safely from hospitals to airports. Their employers have allegedly said the nurses are free to head home, but they won't be responsible for their safety once the nurses leave hospital premises.

The government estimates that 200 Indians many of them construction workers, are currently based in Iraq, where the Shi'ite-led government is struggling to stave off an onslaught by Sunni militants of the Islamic State in Iraq and Syria, or ISIS, which seize the northern cities of Mosul and Tikrit last week and now threatens Baghdad.

India has no plans to withdraw its diplomats from Iraq, said sources

Yesterday, the government issued an advisory asking Indians to "consider leaving the country by commercial means if it is safe to do so." (Read More...)

It also asked Indians living in violence-affected areas in Iraq to remain indoors and remain in contact with Indian Embassy in Baghdad.

The Indian Embassy in Baghdad has set up a 24-hour helpline which can be accessed for information or assistance