Royal Sword takes king's place at Khas Durbar
Mangalore Today News Network
Mysore, Sep 25, 2014, DHNS: For the first time in recent history, the "Khas (Private) Durbar" of the Wadiyars was held in the absence of an heir on Thursday.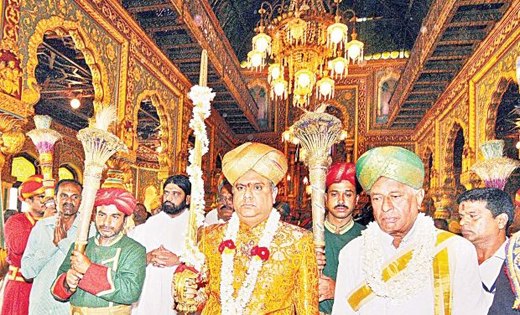 Rituals associated with Navarathri celebrations were performed by placing the "Royal Sword" ("Pattada Katti" handed over to the king during anointment) on the golden throne.

Earlier, the Royal Sword was placed as the representative of the king of the Yadu dynasty in 1971, 1972 and 1973, prior to the death of Jayachamarajendra Wadiyar. Later, the last scion of the Wadiyars, the late Srikantadatta Narasimharaja Wadiyar, used to perform the rituals associated with the celebrations.

In the absence of an heir, Srikantadatta Narasimharaja Wadiyar's eldest nephew Chaduranga Kantharaja Urs, who had performed the last rites of his uncle, performed all rituals associated with the Golden Throne, in the presence of Pramoda Devi Wadiyar and other members of the family. Navarathri celebrations at the Durbar Hall of Amba Vilas Palace began at 5:30 am. The palace priests led by dharmadhikari Janardhana Iyengar performed the pujas associated with the throne. Between 9:45 am and 10:45 am, rituals of "Kankanadharane" (tying a piece of sacred cloth soaked in turmeric water) by Kantharaja Urs were performed. Later, Kantharaja Urs brought the Royal Sword to the Durbar Hall and placed it on the throne.

Kantharaja Urs, Pramoda Devi Wadiyar and other members of the family offered their respects to the throne, the Royal Sword and idol of Lord Ganesha. The rituals were held for close to an hour.

Speaking to Deccan Herald, Janardhana Iyengar said despite the absence of a heir, all traditions were observed. "The Royal Sword is the representative of the king. We cannot compromise with traditions. All rituals have been performed accordingly," he said.Despite tradition being continued, the absence of a king seemed to have dimmed the splendour associated with the ritual, a family member said.

Priests from various temples, such as Sringeri Mutt, Nanjangud and Chamundeshwari temple, performed the pooja. The Durbar was held twice on Thursday and will be held once every day, till the end of Navarathri.