Retired cop beaten to death in Allahabad, locals watched
Mangalore Today News Network
Allahabad, Sep 04, 2018 : A retired policeman was assaulted with sticks by three men on a street in Uttar Pradesh's Allahabad until he lay motionless, bleeding, one arm almost mutilated. For seemingly interminable moments, no one on the road stopped to help 70-year-old Abdul Samad Khan, who died in hospital.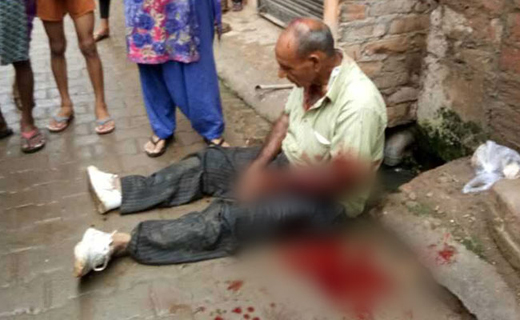 The savage attack, which took place on Monday morning, was caught on CCTV. Mr Khan, a retired sub-inspector, is seen with his bicycle when a man in a red shirt comes and starts beating him.

Mr Khan falls to the ground and tries to shield himself but the blows keep coming. Another man is caught watching the scene from a terrace. In the 40-second clip, several pass by on cycles and two-wheelers, slow down to look and leave.

Two more men join in the beating and soon, Mr Khan stops resisting and takes the blows. Two more men are seen stopping to watch.

A CCTV footage shows the men assaulting the retired policeman in Allahabad

Mr Khan is left sitting against the wall, critically wounded, as the men escape. One of the attackers is a notorious criminal with a prison record.

Mr Khan was later taken to hospital where visuals showed him on a bed with a mask on his face.

The main attacker is believed to be a man named Junaid. Reports say he has at least 10 criminal cases against him at the local police station.

The Allahabad police says initial investigations suggest a property dispute with relatives. Ten people have been named in the First Information Report (FIR) filed at the local police station. No one has been arrested yet.

Mr Khan retired from the Uttar Pradesh police in 2006.



courtesy: NDTV