Rafael Nadal Wins French Open
Mangaloretoday/ NDTV
Paris, June 09, 2014: After all the consecutive victories and the confidently clenched fists, after the new hires and the new attitude, the 2014 French Open was just another rerun on the red clay for Novak Djokovic.

He arrived in Paris full of fresh hope. He departed once again without the trophy, which is officially called the Coupe des Mousquetaires but which is clearly in need of a name change at this belief-beggaring stage of the tournament's history.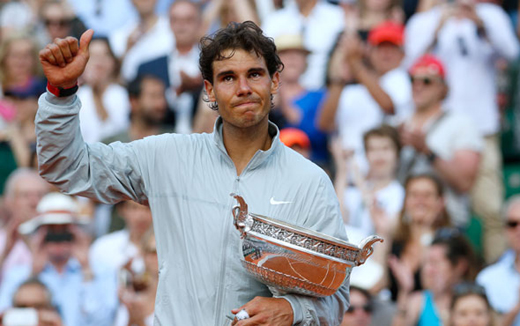 In the modern era, no man has had a tighter grip on a Grand Slam event than Rafael Nadal, whose 3-6, 7-5, 6-2, 6-4 victory over Djokovic allowed him to win his ninth French Open by the age of 28.

This final was a condensed, 3-hour-31-minute version of his clay-court season. He struggled early with his groundstrokes and his nerve but gradually gathered strength and belief, striking his trademark whipping forehand with familiar force down the stretch and then dropping to his knees, his taped fingers covering his face.

Nadal has now won 14 Grand Slam singles titles: just three behind the career leader, his former archrival Roger Federer. And Nadal might already have 15 if he had not had a back problem in the final of this year's Australian Open, where he was upset by the Swiss veteran Stan Wawrinka.

"It was a very hard moment, so today the tennis give me back what happened in Australia," Nadal said in his postmatch remarks.

There were other hard moments on the road to Roland Garros, including an unprecedented three defeats in places he usually considers strongholds: the first to David Ferrer in Monte Carlo, the second to Nicolas Almagro in Barcelona and the third to Djokovic in the final in Rome last month.

That was Djokovic's fourth straight victory over Nadal, but Djokovic has arrived in Paris before on a clay court roll and failed to leave a champion. In 2011, he beat Nadal four times straight before Roland Garros only to be stopped by Federer in a French Open semifinal. Last year, he beat Nadal on clay in Monte Carlo and then lost to him in a titanic five-set semifinal in Paris.

This year, at the clay court tournament that matters most, he faltered again and has now lost two of the last three finals here to Nadal. Djokovic's career record at Roland Garros is a glittering 43-9, but he has the misfortune of playing here in the same era as Nadal, who is now 66-1.

"It's incredible to win this tournament for the ninth time," Djokovic said in his postmatch remarks in French. "It's a very emotional day for me, for my team. I gave my maximum. I played with all my strength and force and capabilities but Rafa was the better player on the court. Congratulations to him."

Nadal's victory over the second-seeded Djokovic allowed him to retain the No. 1 ranking that he wrested from Djokovic last season. It also kept Djokovic from joining the seven-man club of men who have won all four of the Grand Slam singles titles.

"Sorry for him," Nadal said. "I think he deserved to win this tournament. I'm sure he will in the future."

That is far from guaranteed. Nadal is still squarely in the picture and only a few months older. Younger talents will rise. Injuries, ennui or life changes could make Djokovic less of a force. And Roland Garros has long been a place where great tennis players come up short, including Djokovic's new coach, Boris Becker, who won every major title but this one during his long, big-serving career.

"I want to say thank you to my team," Djokovic said. "This trophy is not for us this year, but we will try again and again and again. And I hope to win Roland Garros one day."

Nadal's rivalry with Djokovic is the best in tennis. They have faced each other more often than any men in the 46-year Open era. This, their 42nd meeting, will not go down as one of their best, but the grand stage and the particularly big stakes gave it an edge from the start as the divided crowd created plenty of cacophony with the conflicting yells of "Allez Rafa!" and "Allez Djoko!"