Prime Minister Modi again, BJP powers another jumbo win for alliance
Mangalore Today News Network
New Delhi, May 23, 2019 : Prime Minister Narendra Modi looks set for a second term with another sweep, with the National Democratic Alliance that his party the BJP leads ahead in 339 seats as votes are counted for the Lok Sabha elections. The opposition bloc led by the Congress may not touch three figures if current trends continue. Leads are now in for all 542 Parliament seats in which elections were held, Hindustan Times reported.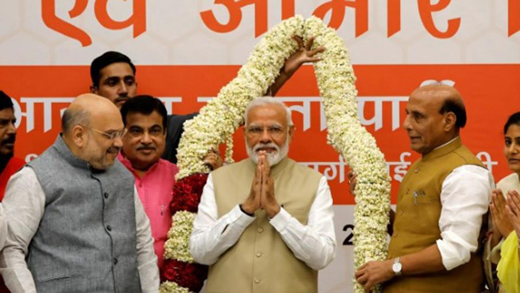 The BJP alone is leading in 292 seats, well over the halfway mark of 272, and if the party wins all of these, it will improve upon its 2014 tally of 282.

Many more rounds of counting will happen, but as leads mirrored projections by many exit polls that predicted a second term for Prime Minister Narendra Modi with a big win, the Sensex soared to the 40,000-mark for the first time ever.

A major contribution to the BJP's mega performance today come from the Hindi heartland states of Madhya Pradesh, Chhattisgarh and Rajasthan, which the party had swept in 2014 but lost to the Congress in assembly elections recently. The party has also made serious inroads in Mamata Banerjee's West Bengal and has managed to minimise losses in Uttar Pradesh despite a formidable challenge from an alliance between regional heavyweights, Mayawati's Bahujan Samaj Party and the Samajwadi Party.

Mamata Banerjee's Trinamool Congress is leading in 25 seats and the BJP in 15 in West Bengal. In the 2014 elections, the BJP had won just two seats in the state, Mamata's party had won 34.

Also Read: In Andhra, YSR Congress' Jagan Reddy looks set to unseat Chandrababu Naidu

Counting of votes began at 8 am amid tight security after the Home Ministry in Delhi sounded a nationwide alert over fears of violence. The process has been a little slow.

The national election was primarily a battle between the NDA led by the BJP's Narendra Modi, and the United Progressive Alliance UPA led by Congress president, Rahul Gandhi, who was, however, not the alliance's declared prime ministerial face.

The battle also assumed distinct forms in distinct states where the BJP was taking on a range of regional formations, from the Samajwadi Party -Bahujan Samaj Party -Rashtriya Lok Dal alliance in Uttar Pradesh to the Trinamool Congress in West Bengal or the Biju Janata Dal in Odisha. In some other states, particularly in the south, the battle was between distinct regional formations.

Exit polls had predicted Prime Minister Modi – who sought endorsement of his governance record of the past five years and projected his achievements as a decisive departure from the past towards a "new India" – will return to power. The opposition had, however, quickly dissed the projection; Congress president Rahul Gandhi called them "fake".

The elections, held over seven phases, in 542 constituencies, witnessed the highest ever turnout in Indian history at 67.1% beating the previous record of 66.4% in the 2014 polls.