Pakistan's new President Arif Alvi has an interesting Indian connect
Mangalore Today News Network
Islamabad, Sep 05, 2018 : Pakistan's newly elected President Dr Arif Alvi shares an interesting connection with India as his father was a dentist to India's first prime minister Jawaharlal Nehru, according to the short biography of the President on the website of his Pakistan Tehreek-i-Insaf party.
Alvi, a close ally of Prime Minister Imran Khan and one of the founding members of the Pakistan Tehreek-e-Insaf (PTI) party, was elected as the new President of Pakistan Tuesday.

The 69-year-old former dentist defeated Pakistan Peoples Party candidate Aitzaz Ahsan and the Pakistan Muslim League-N nominee Maulana Fazl ur Rehman in a three-way contest to become the 13th president.

Being a son of Nehru's dentist is not the only connection that Alvi has with India. He is yet another Pakistani president whose family migrated to Pakistan from India after partition.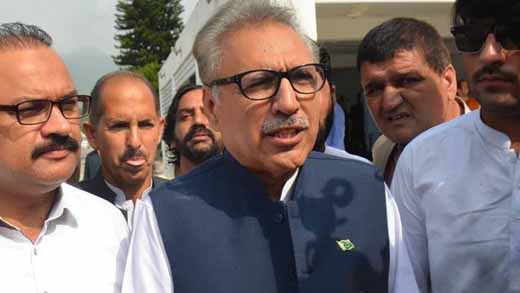 Alvi's predecessors Mamnoon Hussain's family came from Agra and Pervez Musharraf's parents migrated from New Delhi.

His father Dr Habib ur Rehman Elahi Alvi was a dentist to Nehru before partition, according to short biography of the new president on the website of his Pakistan Tehreek-i-Insaf party.

"Dr Elahi Alvi was a dentist to Jawaharlal Nehru and the family has letters from Mr Nehru to Dr Alvi in their possession," according to the website.

Alvi, whose full name is Dr Arif ur Rehman Alvi, was born in Karachi in 1947 where his father settled after partition. He inherited the profession of a dentist from his father who practised dentistry in India before partition and opened a dental practice in Saddar, Karachi after migration.

His father was also connected with the Jinnah family and was made a Trustee of the trust established by Shirinbai Jinnah (Quaid-e-Azam's siter) to which she gift all her worldly belongings including the Mohatta Palace in Karachi.

Alvi started his political career about five decades ago when he was a student of de'Montmonrency College of Dentistry, an affiliate of University of Punjab in Lahore. He was part of the students' wing of Jamaat-i-Islami and protested against military ruler Ayub Khan.

"During one of the protests on the Mall Road in Lahore he was shot and wounded and still proudly carries a bullet embedded in his right arm as a mark of his struggle for democracy in Pakistan," according to the PTI website.

He also participated in elections from the platform of Jamaat-i-Islami in 1979 but lost. Later he became disillusioned with the politics of Jamaat-i-Islami and joined PTI as its founding member in 1996. He also helped in writing the Constitution of the new party.

Alvi contested his first election for PTI in 1997 but lost it. His affiliation with the party continued and he steadily rose in its ranks.

He was the Secretary-General of the party from 2006 till 2013. In 2013 he was elected as a Member of the National Assembly of Pakistan from Constituency NA-250 Karachi and was re-elected in July 2018.

Apart from his political struggle, Alvi is also through professional dentist.

He acquired his dental degree BDS (Dentistry) from de'Montmonrency College of Dentistry, Lahore and Master of Science degree in Prosthodontics from the University of Michigan, Ann Arbor in 1975 and Master of Science in Orthodontics in 1984 from University of the Pacific, San Francisco.

In 1997, Alvi was declared a Diplomate of the American Board of Orthodontics. He was the primary author of the constitution of the Pakistan Dental Association and has been the elected President of the Pakistan Dental Association.

He was also Chairman of the first Pakistan International Dental Conference in 1981 and also elected Chairman of the 28th Asia Pacific Dental Congress.

He also served as Dean of the Faculty of Orthodontics of the College of Physicians and Surgeons Pakistan. In 2006, he was elected as the President of Asia Pacific Dental Federation.

In 2007, he was elected as a Councillor of the FDI World Dental Federation, the first time a Pakistani had been elected.

The new President is married with Samina Alvi and the couple has four children.


courtesy:HT