PM Narendra Modi's message to bureaucrats: be enablers, not regulators
Mangalore Today News Network
New Delhi, Apr 21, 2017: Prime Minister Narendra Modi today urged bureaucrats to change their mindset and style of working. "With changing times, a need may arise that we may have to change our working style. From regulator, we need to be an enabling entity," PM Modi said, addressing the country's top officials in Delhi.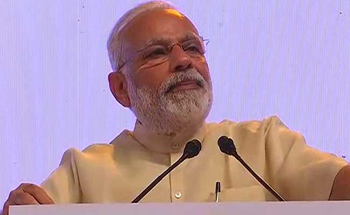 This, he added, was the time for out-of-the-box thinking and confident decisions.

The Prime Minister was speaking at a function to mark Civil Services Day. He said all officials should use the chance to introspect.

"Earlier, the role of the government, from healthcare to wanting to set up an industry, was very strong. Things have been changing for the past 15 years," he said.

Speaking strongly against red-tape, PM Modi asked, "Why were things paralysed for 20-25 years? Why were two ministries fighting in court? We must ask ourselves...was it a case of ego?"

Officials should take decisions that are in national interest, said the Prime Minister, urging his audience to take "collective ownership" to bring change. "Don't make decisions which are temporary or offer a temporary fix for your particular area...It is important to make ourselves relevant in changing times or else, we will become obsolete."

Since coming to power with a huge mandate in 2014, PM Modi has stressed on an efficient workforce and made sweeping changes in his own office.

While making a point, he shared why he had banned mobile phone in his meetings. "These days... I see district officials so busy, so busy, so busy," he said, mimicking furious tapping on a phone keypad.
Courtesy: NDTV