PM Modi and BJP 'Endangering world's biggest democracy': The Economist
Manglore Today News Network / NDTV
New Delhi, Jan 25, 2020: The latest cover of the London-based magazine The Economist has sparked a controversy in India. Titled "Intolerant India", the cover criticises the BJP-led Modi government over Citizenship Amendment Act (CAA) and National Register of Citizens (NRC).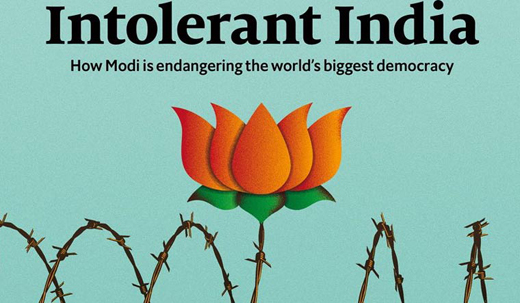 "How India's prime minister and his party are endangering the world's biggest democracy. Our cover this week," The Economist tweeted on Thursday.

The article titled "Narendra Modi stokes divisions in the world's biggest democracy", says India's 200m Muslims fear the prime minister is building a Hindu state.

"By undermining the secular principles of the constitution, Mr Modi's latest initiatives threaten to do damage to India's democracy that could last for decades. They are also likely to lead to bloodshed," the article says.

The article says that "Mr Modi and the BJP are likely to benefit politically by creating divisions over religion and national identity."

"The citizenship row is only the latest in a series of affronts, from the bjp's lionising of vigilantes thought to have killed Muslims to the collective punishment of the people of the Kashmir valley, who have suffered arbitrary arrests, smothering curfews and an internet blackout for five months," it further reads.

The BJP hit back, with party leader Vijay Chauthaiwale calling The Economist "arrogant", and "still living in a colonial era."

"We thought the Brits had left in 1947! But the editors of @TheEconomist are still living in in colonial era. They are furious when 600m Indians do not follow their explicit instructions of not voting Modi," he tweeted.

In the last few weeks, the country has witnessed violent protests against the CAA and proposed NRC.

The CAA provides citizenship to non-Muslim minorities who fled Muslim-majority countries like Pakistan, Bangladesh and Afghanistan before December 31, 2014 due to" religious persecution or fear of religious persecution."